The Moran Gallery Sylvania, NSW is located in the Moran Health Care Group's premium residential aged care home Moran Sylvania, 29 Sylvania Road, Sylvania, NSW 2224
Moran Health Care Group is a major supporter of Hazelhurst Regional Gallery & Arts Centre in the Sutherland Shire of Sydney as a Principal Partner supporting their active arts programs for the community. Through this collaboration the Moran Gallery, Sylvania hosts a series of exhibitions which aim to enrich the day to day lives of Moran Residential Aged Care residents at Sylvania and Engadine, their families and the Sutherland Shire community.
Moran Gallery Sylvania is open Monday to Sunday, 10am – 4pm, entry is Free.
For details on the latest exhibition read more here.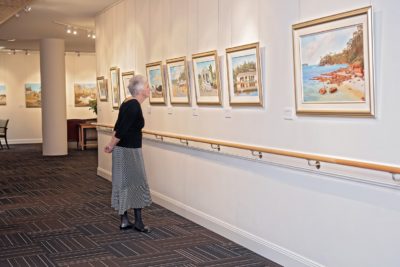 Current Exhibition
Moran Contemporary Photographic Prize 2016 – Dates: 29 June to 3 September 2017
Each year the Moran Arts Foundation invites photographers to interpret 'Contemporary Life in Australia' with an emphasis on Australians going about their day-to-day life. "We aim to encourage the production of photographs taken in Australia, by Australians, that reflects the diversity, multiculturalism and uniqueness of life, no matter where you live in Australia." The exhibition showcases works from the 30 finalist photographers in 2016.
Dates: 29 June to 3 September 2017
Times: 10am to 4pm daily
Free entry
Coming Soon
Snap for Life Photography Exhibition – Dates: 14 September to 15 October 2017 Local amateur photographers were invited to submit their photos of the St George & Sutherland region to brighten the hallways of the new hospital buildings at Sutherland and St George Public hospitals. This is an exhibition of finalist images.
Past Exhibitions
Crooked Mountain to the Bay by Michael and Gino Ambriano – 2017
Australia. Seriously? by Trent Mitchell – 2017
Lost by Liz Donley –  2017
A Guiding Hand by Sandra Cipriotti & Kids on Canvas –  2016
Ancient Stones by Jennifer Gowen –  2016
The Magic of Realism by Ernesto Arrisueno –  2016
Umbra bv Sophie Bray –  2016
2015 Moran Contemporary Photographic Prize (Exhibition of Student Winners & Finalists) – 2016
Southern Printmakers – 2016
A Glimpse of Something by Zuza Zochowski – 2016
Interior Monologue by Louisa Chircop – 2015
CITY AND SURF by Pamela Pauline – 2015
Land Marks by Sokquon Tran – 2015
Colouring the Landscape by Jim Flood – 2015
2014 Moran Contemporary Photographic Prize Exhibition of Winners & Finalists –  2015
Forage by Lee Bethall –  2015