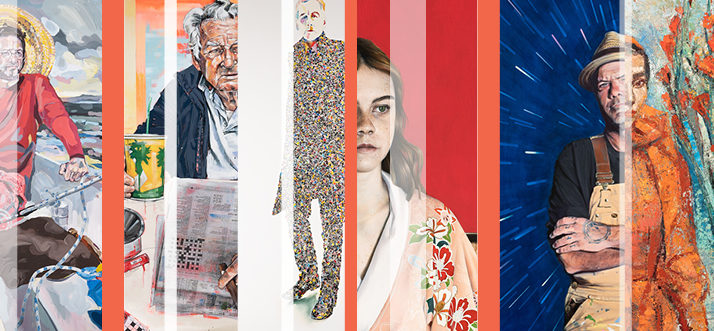 The exhibition of 2019 winner and finalists will be visiting Manning Regional Art Gallery.
Dates: Re-opening from 2 June to 2 August 2020
Days: Wed to Sun (please check here for opening times)
Since 1988 the Doug Moran National Portrait Prize has grown to become one of this country's most prestigious art prizes with the largest prize money of any art competition in Australia.  The prize attracts not only the cream of Australian portraiture artists but encourages artists at all stages of their careers to enter.
Prize Winner
what's entry, Robert Forster, was selected from close to 1000 entries by judges; artist and 2013 DMNPP winner Nigel Milsom, Director of the Ian Potter Museum of Art at the University of Melbourne, Kelly Gellatly, and Peter Moran, Managing Director of the Moran Health Care Group.
Kelly Gellatly and Nigel Milsom said:
"The 2019 winner of the Doug Moran Portrait Prize what, Robert Forster is intriguing for its lack of solid form, and for the way in which the subject hovers on the surface of the canvas like a vibrating aura. The artist has successfully captured the essence of what we think we know about Robert Forster – singer-songwriter and guitarist of the Go-Betweens, and now, music critic – but he is like a technicolour apparition; neither concrete shape nor exact likeness.
The artist has used an array of coloured broken brushstrokes as both decoration and form, while skilfully rendering three-dimensional space. For the judges, this work embodies the endless possibilities of contemporary portraiture and painting."
The exhibition at Manning Regional Gallery has been closed due to COVID-19 restrictions.  Thank you to the gallery for providing this exclusive walk through: