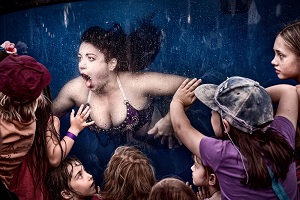 Now in its eleventh year, the Moran Contemporary Photographic Prize showcases the excellence of Australian photographers, increasing awareness and appreciation of Australian visual arts. Photographers are asked to interpret contemporary life in Australia.  A diverse exhibition of the most outstanding entries of 2016 opens at the Moran Gallery, Sylvania on 28 June.
With a first prize of $50,000, the annual Moran Contemporary Photographic Prize draws entries from Australia's most highly regarded photographers as well as photographic enthusiasts from around the country. The Prizes are an initiative of the Moran Arts Foundation, a charitable organisation who is a major supporter of the arts in Australia.
The Moran Contemporary Photographic Prize exhibition of 2016 winner and finalists' entries officially opens at the Moran Gallery Sylvania on Wednesday 28 June. The exhibition will be open from Thursday 29 June to Sunday 3 September 2017, 10am to 4pm daily with free entry.
"What impressed me when judging the Moran Prizes were the range of work and the rich cultural and political diversity of the stories. It allowed me to peep behind the curtains into the private lives of the Australian family, whilst showing me the bigger picture" said Cheryl Newman, international judge.
Winner of the 2016 Moran Contemporary Photographic Prize was Johannes Reinhart with his photograph of children mesmerised by mermaid, Tina Tuna, who puts on a dramatic show at Perth Fringe Festival (pictured)
Exhibition details:
Moran Gallery:   29 Sylvania Road, Sylvania NSW 2224. Tel: 02 9532 6222
Opening night:   Wednesday 28 June, 6pm – 8pm
Exhibition:          Thursday 29 June to Sunday 3 September inc
Opening Hours:  10am – 4pm daily, Free Entry

The Moran Gallery in collaboration with Hazelhurst Regional Gallery & Arts Centre, presents a series of exhibitions which aim to enrich the day to day life of Moran Aged Care residents; their families and the Sutherland Shire community. The Gallery showcases Australia's emerging and established artists allowing residents and visitors to experience first-hand the range of diversity of Australian art.
The Moran Aged Care lifestyle and leisure programs encourage residents to explore their own creativity through workshops conducted by the artists on display. The Moran Health Care Group is also a major supporter of Hazelhurst Regional Gallery & Arts Centre as a Principal Partner supporting active arts programs for the community.
For further information and exhibition images contact:
Anne Samuel, Marketing Manager, Moran Arts Foundation – 0418 136 066
info@moranarts.org.au
Picture: 2016 Moran Contemporary Photographic Prize Winner, Johannes Reinhart, Mermaid Show