PORTRAITS OF TROYE SIVAN, CARLA ZAMPATTI AND ASHER KEDDIE ARE AMONGST THE 2018 DOUG MORAN NATIONAL PORTRAIT PRIZE SEMI-FINALISTS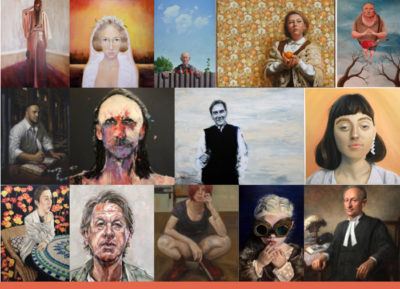 The Moran Arts Foundation has today announced the semi-finalists for the 2018 Doug Moran National Portrait Prize (DMNPP), with portraits of well-known Australians such as Troye Sivan, Asher Keddie, Carla Zampatti, Simon Tedeschi and Kate McClymont amongst the 128 semi-finalists. Other high profile sitters include Reg Mombassa, Noeline Brown, Edmund Capon AM OBE and Jane Caro, who appears twice in the semi-finalist selection. The DMNPP is celebrating its 30th Anniversary and remains  Australia's richest art prize with prize money of $180,000 including a $150,000 first prize.
Leading Australian artists such as Wendy Sharpe, Peter Smeeth, Vincent Fantauzzo, Lewis Miller and Rodney Pople are included in the list of semi-finalists, alongside recent DMNPP winners Megan Seres and Warren Crossett.
The judges of the 2018 Doug Moran National Portrait Prize are artist Louise Hearman, the former director of National Gallery of Australia, Dr Ron Radford AM and Greta Moran, Co-Founder and Director Moran Arts Foundation. Louise Hearman said "We saw some strange work, some interesting work and some strangely interesting work. So much skill and time and emotion was evident in over one thousand entries.  Ultimately a combination of skill and attraction, the ability of a picture to continue to fascinate us, was the deciding factor in choosing the semi-finalists."
The Moran Arts Foundation invites entries of original works from Australian artists, capturing Australians from all walks of life, whether a public figure or someone from their own circle of experience. Works must be painted at least partly from life with the sitter known to the artist and aware of the artist's intention to enter the Prize.
The finalists of the DMNPP will be announced on Wednesday 17 October and the winners will be revealed on Thursday 1 November.
The semi-finalists can be viewed here: http://www.moranprizes.com.au/competition/2018-doug-moran-national-portrait-prize/semi-finalists and high-res images are available on request.
MEDIA CONTACT:
For further information please contact TM Publicity:
Jillian Heggie –  jillian@tmpublicity.com – 02 8333 9070
 ABOUT THE MORAN PRIZES
Doug Moran National Portrait Prize
Winner – $150,000
Finalists – $1,000
ABOUT THE MORAN ARTS FOUNDATION
The Moran Arts Foundation is a philanthropic, not-for-profit organisation whose objective is to support the arts in Australia through the Doug Moran National Portrait Prize, the Moran Contemporary Photographic Prize, gallery exhibitions and free Moran School Photographic Workshops. Established by Doug and Greta Moran and family in 1988 in celebration of Australia's bicentennial, the Moran Arts Foundation fosters portraiture skills and excellence in photography.