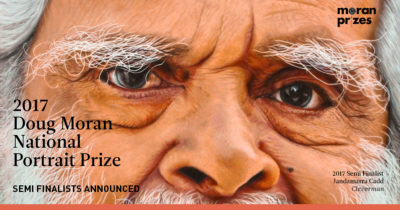 Portraits of Australian identities such as Jack Charles, Warwick Thornton, Isla Fisher, Yassmin Abdel-Magied, Michael Gudinski, Pat Harry OAM, Erik Thomson, Adam Elliott, Ben Quilty, and Julian Assange are amongst the semi-finalists of this year's Doug Moran National Portrait Prize. The Moran Prizes today announced that there are 200 semi-finalists, who are now one step closer to winning the $150,000 prize in October.
There are several previous winners of the Doug Moran National Portrait Prize (DMNPP) amongst the semi-finalists including Vincent Fantauzzo, Warren Crossett, Penny Dowie, Robert Hannaford, Esther Erlich, David Fairbairn, Prudence Flint and Peter Wegner. Other well-known artists amongst the semi-finalists include Anh Do, Ann Cape, George Gittoes, Rodney Pople and Steve Lopes.
This year's DMNPP is being judged by Daniel Thomas AM, Emeritus Director of the Art Gallery of South Australia, Wendy Sharpe, one of Australia's most awarded artists and Greta Moran, Director of the Moran Arts Foundation.
Wendy Sharpe commented: "It was an extremely difficult task choosing 200 semi-finalists from over 1100 paintings.  We were excited by the diversity and quality of the entries and to see so many people passionately engaged in painting."
Daniel Thomas AM commented: "I was pleased that we were able to select many portraits with a special sense of everyday Australian humanity."
The Doug Moran National Portrait Prize is Australia's richest art prize, with prize money of $180,000 including a $150,000 first prize. The DMNPP invites entries of original works from Australian artists, capturing Australians from all walks of life, whether a public figure or someone from their own circle of experience.
The finalists of the 2017 Doug Moran National Portrait Prize will be announced on Wednesday 11 October and the winner will be revealed at an event at Juniper Hall in Paddington on Wednesday 18 October.
The full list of semi-finalists can be found here
MEDIA ENQUIRIES:
TM Publicity, Jillian Heggie – jillian@tmpublicity.com / 02 8333 9070
ABOUT THE MORAN ARTS FOUNDATION
The Moran Arts Foundation is a philanthropic, not-for-profit organisation whose objective is to support the arts in Australia through the Doug Moran National Portrait Prize, the Moran Contemporary Photographic Prize, gallery exhibitions and free Moran School Photographic Workshops. Established by Doug and Greta Moran and family in 1988 in celebration of Australia's bicentennial, the Moran Arts Foundation fosters portraiture skills and excellence in photography.