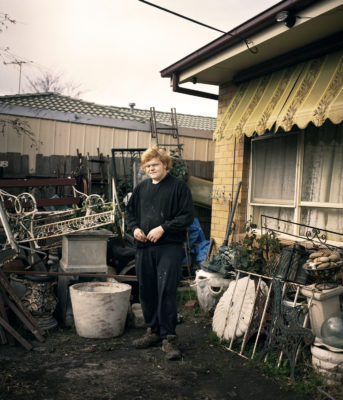 EMERGING PHOTOGRAPHER JAMES BUGG WINS THE MORAN CONTEMPORARY PHOTOGRAPHIC PRIZE
James Bugg, a 22 year-old emerging photographer from Melbourne has won the 2018 Moran Contemporary Photographic Prize (MCPP). The MCPP is Australia's richest photography prize and James took home the $50,000 prize for his photograph Zach. The announcement was made today at Juniper Hall in Paddington, the home of the Moran Arts Foundation. The judges of the 2018 MCPP were photographer and curator Cheryl Newman, photojournalist and photo editor Jon Jones and Australian documentary artist Raphaela Rosella.
Cheryl Newman said "I loved James Bugg's authentic portrait of Zach from the outset. This portrait stayed with me throughout the judging process, as it is fresh, surprising and beautifully articulates life on the fringes of Australian society. In his hands the lens does not exploit his subject. I was extremely keen to see work from emerging photographers and James at only 22 has fitted the bill perfectly. He is an exciting intelligent young photographer who is the perfect winner for a forward-looking prize such as the Moran."
Jon Jones said "James Bugg's image of Zach, standing in front of his friend's home in the "Pines", which is part of a wider body of work, is a beautifully observed, subtle and thought provoking contemporary portrait. His direct gaze and awkward stance, surrounded by the discarded pots and garden ornaments that speak of a different time, offers a glimpse of Australian society rarely visible."
The judges also highlighted Isabella Moore's The Significance of Ceremony and Matthew Abbott's Wrestlers Cooling Off as Highly Commended.
James Bugg is based in Melbourne and his winning photograph is part of a wider series called The Pines. James recently graduated from the Photography Studies College Melbourne. The subject of his photograph is Zach, a resident of The Pines, an area South-East of Melbourne. James had two photographs amongst the 30 finalist images selected by the judges.
The Moran Contemporary Photographic Prize (MCPP) was established in 2007 by the Moran Arts Foundation and it awards and promotes Australian contemporary photography and excellence in all forms of still, photo based artwork – including analogue and digital photography or staged and directorial photo-media work. This is the first year that the MCPP has been announced separately to the Doug Moran National Portrait Prize, which is awarded in October each year.
As part of their commitment to the arts, The Moran Arts Foundation host free photography workshops in schools throughout the country each year. The Moran Contemporary Photographic Prize also includes student categories and this year's Student Prizes will be judged by Louise Whelan, Nicki Jackson and Peter Edward.
The winners of the Student Categories this year are Luca Johns from Eltham High School, VIC (Years 11-12), Noah Dawson from Newcastle High School, NSW (Years 9-10) and Claire Herbert from Mater Dei Catholic College, NSW (Years 7-8).
The Moran Contemporary Photographic Prize Exhibition is now open and runs until 27 May at Juniper Hall, 250 Oxford Street, Paddington. The exhibition is open Thursday to Sunday from 10am until 4pm.  More information
MEDIA ENQUIRIES:
TM Publicity
Jillian Heggie – email / 02 8333 9070 / 0434 618 555
ABOUT THE MORAN ARTS FOUNDATION
The Moran Arts Foundation is a philanthropic, not-for-profit organisation whose objective is to support the arts in Australia through the Doug Moran National Portrait Prize, the Moran Contemporary Photographic Prize, gallery exhibitions and free Moran School Photographic Workshops. Established by Doug and Greta Moran and family in 1988 in celebration of Australia's bicentennial, the Moran Arts Foundation fosters portraiture skills and excellence in photography.
ABOUT THE MORAN CONTEMPORARY PHOTOGRAPHIC PRIZE
Moran Contemporary Photographic Prize
Winner – $50,000
Finalists – $1,000
Moran Contemporary Photographic Prizes – Students
$5,000 each for the Winner and their School (Years 11-12)
$3,000 each for the Winner and their School (Years 9-10)
$2,000 each for the Winner and their School (Years 7-8)
A camera for each Primary School Student Finalist