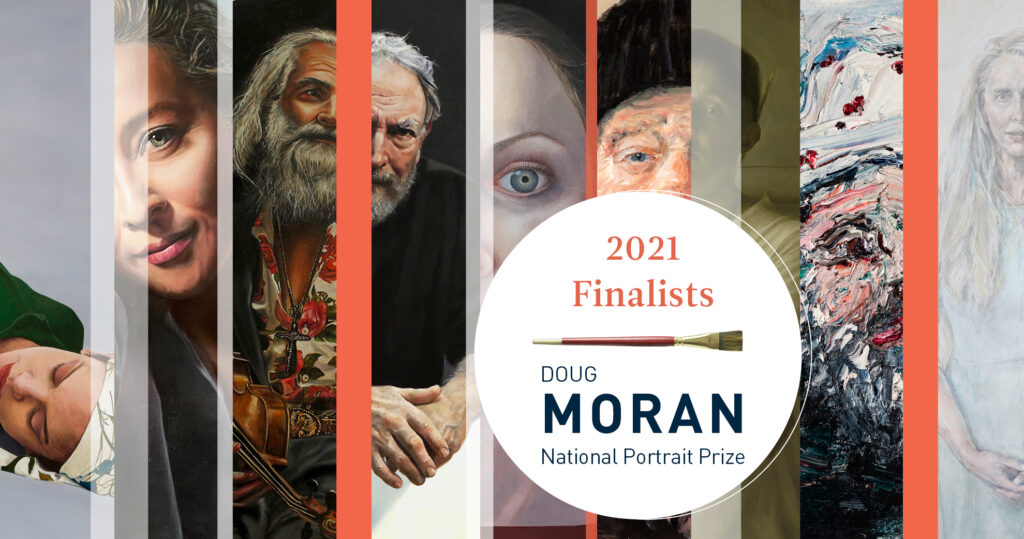 PORTRAITS OF AUSTRALIAN ARTISTS FEATURE AMONGST THE 2021 DOUG MORAN NATIONAL PORTRAIT PRIZE – 30 FINALISTS
The finalists of the 2021 Doug Moran National Portrait Prize, Australia's richest art  prize, have been revealed.  Portraits of Hugh Mackay AO, Asher Keddie and Warren Ellis (Nick Cave & The Bad Seeds) are amongst 30 artworks in the running for the $150,000 prize. The winner announcement will be made on 30th November 2021.
Well-known Australian artists amongst the finalists announced today include; Lewis Miller, Rodney People, Vincent Fantauzzo and Penny Dowie.  In a reflection of the times, an overwhelming majority of portraits featured the artist themself or a member of the arts community in Australia, including actors, painters, authors, musicians and photographers.
The judges of the 2021 Doug Moran National Portrait Prize are Emeritus Director of the Art Gallery of South Australia Daniel Thomas AM, prominent Australian artist and 2017 DMNPP winner Tim Storrier AM and Peter Moran, Managing Director of the Moran Health Care Group.  Peter's parents Doug and Greta Moran AO established the Moran Arts Foundation in 1988.
Judge Daniel Thomas commented
"At a time of contagion and lockdown, the entries for the Doug Moran National Portrait Prize included a few works that directly referred to the times but we became aware of a more general emphasis on the intimate life — of family at home, of love and friendship.  Of course, a few portraits of beautiful or important people occur among the 30 finalists. However, we found most of the selected portraits constituted a wonderfully ordinary survey of all-Australian diversity, many old and plain and modest, but intensely individual and emotional."
Judge Tim Storrier commented
"One of the best portraits I have ever seen in Australia or for that matter anywhere is George Lambert's portrait of Mrs Annie Murdoch painted in 1927.  I saw the portrait at the National Gallery Lambert retrospective in 2007 and I was struck by the penetrating gaze, the quizzical expression of her mouth and the wonderful human sense of acceptance of who she is.   Viewing the portrait was very much like a personal engagement.

It is true to say that very few of us are blessed with Lambert's talents however a portrait of such quality can set a benchmark of excellence for contemporary portraitists to try to attain. 

With a prize such as the 'Moran', it is imperative that a standard of aesthetic excellence is maintained above currently fashionable political pressures if its legacy is to be a collection of portraits of lasting cultural value. 

The 'Moran' is open to any dauber who wants to present an image of a human being – be they immature, amateur, dilettante or gifted and trained professional.  Simply this award is for excellence – the best painting as far as one can judge.  Identity politics are not relevant or welcome."
The winner of the Doug Moran National Portrait Prize will be announced on Tuesday 30 November 2021 followed by the launch of an online exhibition of the finalist works.  A preliminary gallery of the artworks can be viewed here.
Doug Moran National Portrait Prize entries are original artworks from Australian artists, capturing Australians from all walks of life, whether a public figure or someone from their circle of experience. Works are painted at least partly from life with the sitter known to the artist and aware of the artist's intention to enter the Prize.
MEDIA ENQUIRIES: For further information or images, please contact us.
View finalist artworks here
2021 Doug Moran National Portrait Prize Finalists
| | | | |
| --- | --- | --- | --- |
| ARTIST | STATE | ARTWORK TITLE | SITTER |
| Jill Ansell | WA | Jack of all trades | Eric Nidd |
| Natasha Ber | VIC | Janet in the lockdown | Janet Dawson |
| Lyndell Brown and Charles Green | VIC | Mr Wanambi | Mr Wanambi |
| Warren Crossett | VIC | Assurance in disorder | Micah Crossett |
| Michael Crowley | WA | I am James | James Bol Chang |
| Penny Dowie | SA | The photographer and self | Jacqui Way |
| Graeme Drendel | VIC | Portrait of Murray Walker | Murray Walker |
| Jaye Early | SA | Masato Takasaka | Masato Takasaka |
| Vincent Fantauzzo | VIC | Muse | Asher Keddie |
| Andrew Greensmith | VIC | Two lives one soul | Annetta Able and Stephanie Heller |
| Sean Hutton | NSW | Tamara Dean | Tamara Dean |
| Martin King | VIC | John Wolseley old master | John Wolseley |
| Harley Manifold | VIC | Leeanna | Leeanna Walsman |
| Kerry McInnis | NSW | Listening to us (Hugh Mackay AO) | Hugh Mackay AO |
| Lewis Miller | VIC | Richard | Richard Manning |
| Paul Newton | NSW | Self portrait in lockdown | Self portrait |
| Eleanor Noir | SA | Wintering | Self portrait |
| Lucy O'Doherty | NSW | Dad and his cat | Chris O'Doherty |
| Mica Pillemer | VIC | Lockdown self portrait | Self portrait |
| Evert Ploeg | NSW | Eternity – self portrait with Ivana | Evert Ploeg (self portrait ) with Ivana Daniele |
| Rodney Pople | NSW | Self portrait after Courbet  (2) | Self portrait |
| Jamie Preisz | NSW | Warren Ellis | Warren Ellis |
| Lynn Savery | VIC | Eloise da Silva as a fallen heroine (after Manet) | Eloise da Silva |
| Jiawei Shen | NSW | A Prince's Family | Fu Jie |
| Peter Smeeth | NSW | Trompe-l'oeil self portrait with old door | Peter Smeeth |
| Timothy Snowdon | NSW | David | Dave Argaet |
| Michael Vale | VIC | Our ghostly crew (Michael Vale & Donna McRae with others) | Michael Vale & Donna McRae with others |
| Craig Waddell | NSW | Self portrait floating in a sea of paint | Self portrait |
| Vicki White | NSW | Us 2021 | Vicki White & Eric Lobbecke |
| Madeleine Winch | NSW | Solitude (self portrait) | Self portrait |