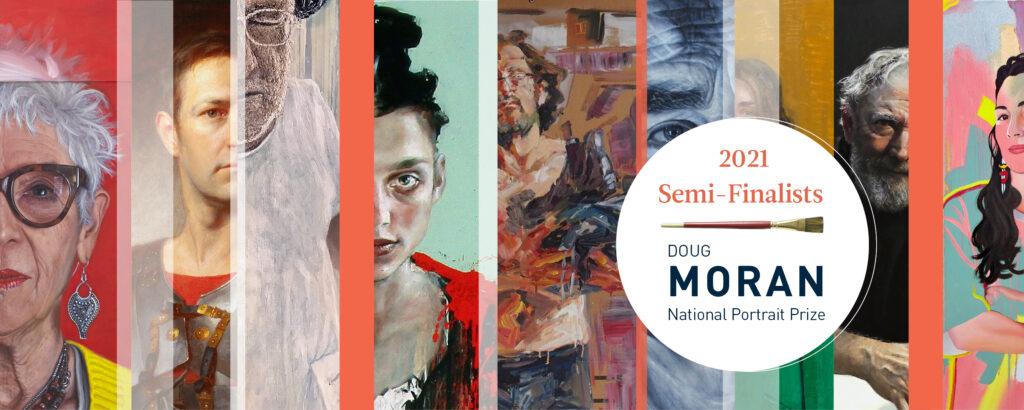 Moran Arts Foundation has announced 151 semi-finalists in the 2021 Doug Moran National Portrait Prize (DMNPP).  Portraits of Australians, both well known and unknown, are among the semi-finalists' artworks including Leader of the Opposition Anthony Albanese MP, horse trainer Gai Waterhouse AO, and Australian personalities Asher Keddie, Akmal Saleh, Matt Preston, Jack Charles, Peter Overton AM and John Howard (actor).  Self portraits and portraits of fellow artists were submitted as a reflection of the lockdown conditions that Australia has experienced in recent times.
Leading Australian artists feature alongside previous DMNPP winners and emerging artists in the list of semi-finalists announced today (see below).  The 151 semi-finalists are now one step closer to winning $150,000 in Australia's richest art prize.
The judges of the 2021 Doug Moran National Portrait Prize are Emeritus Director of the Art Gallery of South Australia Daniel Thomas AM, prominent Australian artist and 2017 DMNPP winner Tim Storrier AM and Peter Moran, Managing Director of the Moran Health Care Group.  Peter's parents Doug and Greta Moran AO established the Moran Arts Foundation in 1988.
Judge Tim Storrier AM commented
"In trying to identify portraits of quality there is much more to consider than just 'likeness of sitter'.  One must consider; scale, colour, tone, composition, surface and drawing etc all of which come into it.   In the end, I look for that heightened sense of presence of the figure in space – a penetrating instant that conveys the intense physical and spiritual presence of the sitter – this can be achieved in a good portrait."
Doug Moran National Portrait Prize entries are original artworks from Australian artists, capturing Australians from all walks of life, whether a public figure or someone from their circle of experience. Works are painted at least partly from life with the sitter known to the artist and aware of the artist's intention to enter the Prize.
The DMNPP finalists will be announced on Monday 1 November and the winner declared on Friday 30 November followed by an online exhibition.
MEDIA ENQUIRIES: For further information or images, please contact us.
View semi finalist artworks here
| | | | |
| --- | --- | --- | --- |
| ARTIST | STATE | ARTWORK TITLE | SITTER |
| Margaret Ackland | NSW | Lockdown double portrait | Margaret Ackland, Victor Branson |
| Simon Adams | Vic | Waterhouse | Gai Waterhouse AO |
| Jordan Andreotta | WA | Harry Neesham | Harry Neesham |
| Deborah Angus | NSW | Peter Overton AM | Peter Overton AM |
| Jill Ansell | WA | Jack of all trades | Eric Nidd |
| Troy Argyros | Vic | The painter | Lauren Jones |
| Chris Arnol | WA | Eroding Piece by Piece | Bruce Byatt, Deputy Chief, Tasmania Fire Service |
| Rita Attwood | Vic | Mickael | Mickael |
| Andrew Baines | SA | Home land security | John Baines |
| Natasha Ber | Vic | Janet in the lockdown | Janet Dawson |
| Andrew Bonneau | Qld | Self portrait in armour | Andrew Bonneau |
| Warren Breninger | Vic | Self portrait at 73 #29 | Warren Breninger |
| Celene E Bridge | WA | Georgeite | Peter J. Bridge |
| Renee Broders | Vic | Smith Street hero | Jack Charles |
| Christopher Brown | NSW | Peering from behind the blue door | Dissonance |
| Lyndell Green and Charles Brown | Vic | Mr Wanambi | Mr Wanambi |
| Isabella Bruzzese | NSW | A room, a lover, a chair, and a shadow | David Griggs |
| Daniel Butterworth | Vic | Self giving my all | Daniel Butterworth |
| Daniel Butterworth | Vic | Dale | Dale Hardy |
| Matt Butterworth | Vic | Untitled M | Meadow Bowden Butterworth |
| Mitch Cairns | NSW | Michael Snape | Michael Snape |
| Michelle Campbell | WA | Purple for Lent | Hollis Wilson |
| Rachel Coad | WA | Tim 3rd degree Burns II | Tim Burns |
| Andy Comisso | Vic | Portrait of Cherry Parker | Cherry Parker |
| James Congdon | Qld | Art is my friend | James Congdon |
| Yvette Coppersmith | Vic | The emerald mantle | Steph Hodgins-May |
| Tony Costa | NSW | Roger Scott 2021 | Roger Scott |
| Greg Creek | Vic | Diecast-speech painting (picture of David Sequeira) | David Sequeira |
| Warren Crossett | Vic | Assurance in disorder | Micah Crossett |
| Michael Crowley | WA | I am James | James Bol Chang |
| Jayne Curle | Qld | The insanity of perfectionism | Jayne Curle |
| Susannah Curtis | Tas | Sacrifice | Ishmael Case |
| Susannah Curtis | Tas | Okiiaani | Seona Hume |
| Dagmar Cyrulla | Vic | From red earth to red carpet | Kym Ellery |
| Dagmar Cyrulla | Vic | Bella granddaughter of Constance Stokes | Bella d'Abrera |
| David Darcy | NSW | Ronni | Ronni Kahn AO |
| Sinead Davies | NSW | Love is a red rose | Sonya |
| Penny Dowie | SA | The photographer and self | Jacqui Way |
| Graeme Drendel | Vic | Portrait of Murray Walker | Murray Walker |
| James Drinkwater | NSW | I want exactly what you want (portrait of Lottie Consalvo) | Lottie Consalvo |
| Jaye Early | SA | Masato Takasaka | Masato Takasaka |
| Katherine Edney | NSW | Monsters on the outside, monsters on the inside | Katherine Edney and Benjamin Pollett |
| John Edwards | NSW | Self portrait with Ruby Tongue hanging out | John Edwards and Dog Ruby |
| Esther Erlich | Vic | Alma | Alma Zigier |
| Vincent Fantauzzo | Vic | Muse | Asher Keddie |
| Josef Felber | SA | Mimi as Salome | Mimi Sanders |
| David Fenoglio | Qld | Rebecca | Rebecca Grace |
| Rikki Fisher | NSW | Sailor Mac | Ian (Mac) McFarlane |
| Matt Foley | NSW | Tranquillity | Matt Foley |
| Zoe Freney | SA | Self With Beluga | Zoe Freney |
| Hong Fu | Vic | Portrait of Alex Miller | Alex Miller |
| Ben Fuog | Vic | Father, Son, Dog | Ben Fuog |
| Chris Garner | WA | Murphious | John Merolla |
| Jae George | NSW | It's all in the hands | Rodney Pople |
| Mertim Gokalp | NSW | Portrait of Matt Preston – Lockdown Menu | Matt Preston |
| Jaq Grantford | Vic | Born beautiful | Lisa McManus |
| Andrew Greensmith | Vic | Two lives one soul | Annetta Able and Stephanie Heller |
| Andrew Greensmith | Vic | Kendrah Morgan Heide II and the Bauhaus Chair | Kendrah Morgan |
| Jessica Guthrie | NSW | Studibaker Hawk | Janelle Miles |
| Janet Hayes | Vic | Observation and stillness self portrait | Janet Hayes |
| Clive Holden | Qld | Veivers tribute to Paladio | Andrew Veivers |
| Sean Hutton | NSW | Tamara Dean | Tamara Dean |
| Polly Ifould | Vic | Shirley Shackleton Prime Minister I just want the Truth | Shirley Shackleton |
| Polly Ifould | Vic | Renaissance man | Barry Jones |
| Margaret Ingles | Qld | Kim | Kim Ingles |
| Adam Jauczius | NSW | Mark Oats, the fiddle player | Mark Oats |
| Shane Jones | Vic | City light and reflections | Shane Jones |
| Brittany Jones | Vic | It feels worse than it looks | Brittany Jones |
| Martin King | Vic | John Wolseley old master | John Wolseley |
| Jasper Knight | NSW | The house always wins | Max Germanos |
| Kate Kurucz | SA | Home | Julia Robinson and Roy Ananda |
| Thomas Kuss | NSW | Butta stripes | Basma Attia |
| Suzanne Lawson | WA | Rachel in the blue light | Rachel Phillips |
| Kim Leutwyler | NSW | Kat | Kat Dopper |
| Dora Levakis | Vic | Juluba | Henry Numamurdirdi (Juluba) |
| Steve Lopes | NSW | Kirsten Banks | Kirsten Banks |
| Steve Lopes | NSW | Huffy | Giovanni Natoli |
| Susan Ma | NSW | Ron Ramsey and Vermeer's chair | Ron Ramsey |
| Christopher Malouf | NSW | Social handle | Jordan Stenmark and Zac Stenmark |
| Harley Manifold | Vic | Leeanna | Leeanna Walsman |
| Sher Mannerheim | Vic | Yalmay Yunupingu | Yalmay Yunupingu |
| India Mark | NSW | Nick Santoro painting | Nick Santoro |
| Darren McDonald | Vic | You where always on my mind | Mum & Dad |
| Kerry McInnis | NSW | Listening to us (Hugh Mackay AO) | Hugh Mackay, AO |
| Kevin McKay | NSW | Jay | Jay McKay |
| Margaret McKenna | NSW | Pat Corrigan, Professional Beggar | Pat Corrigan |
| Tim Messiter | NSW | Judy | Judy Messiter |
| Anne Middleton | Vic | Elsa Middleton: wife and mother of artists | Elsa Middleton |
| Tricia Migdoll | Vic | David Frazer | David Frazer |
| Heather Miller | NSW | Two thirds (self portrait) | Heather Miller |
| Lewis Miller | Vic | Richard | Richard Manning |
| Paul Miller | NSW | Standing in the morning light (self portrait) | Paul S. Miller |
| Ray Monde | NSW | Tony | Tony Albert |
| Guy Morgan | NSW | Barefoot self portrait with good eye closed | Guy Morgan |
| Guy Morgan | NSW | Kevin Connor & Rob Eadie at Bill & Toni's | Kevin Connor & Robert Eadie |
| Alan Morrison | Qld | Vecinito II | Ivan Oscar Roseiro |
| Nicholas Mourtzakis | Vic | Still life self portrait | Nicholas Mourtzakis |
| Kirsty Neilson | NSW | The Drover | Gil Bowman |
| Paul Newton | NSW | Self portrait in lockdown | Paul Newton |
| Eleanor Noir | SA | Wintering | Eleanor Noir |
| Adam Norton | NSW | Alex Wisser of Kandos | Alex Wisser |
| Liam Nunan | NSW | Grounded | Remy Hii |
| Lucy O'Doherty | NSW | Dad and his cat | Chris O'Doherty |
| Jane Parker | Qld | Flynn at cello practice | Flynn Raju |
| Lori Pensini | WA | Woman with flathead | Lori Pensini |
| Mica Pillemer | Vic | Lockdown self portrait | Mica Pillemer |
| Evert Ploeg | NSW | Eternity – self portrait with Ivana | Evert Ploeg with Ivana Daniele |
| Rodney Pople | NSW | Self portrait after Courbet  (2) | Rodney Pople |
| James Powditch | NSW | Anthony Albanese – there will come a time | Anthony Albanese |
| Jamie Preisz | NSW | The Bushranger of Bunnings 2 | Jamie Preisz |
| Jamie Preisz | NSW | Warren Ellis | Warren Ellis |
| Dai Qing Liu | NSW | 16 Month Girl | Allie Li |
| Alun Rhys Jones | NSW | John Howard | John Howard |
| Mal Ritchie | Vic | Janelle | Janelle Hamer |
| Melissa Ritchie | NSW | Down the Rabbit Hole | Akmal Saleh |
| Rachael Robb | Vic | Self portrait, glass of water and Ampelmann Mug | Rachael Robb |
| Mark Rowden | NSW | Salvatore Zofrea | Salvatore Zofrea |
| Ben Ryan | NSW | Lockdown self portrait 2 | Ben Ryan |
| Fiona Rylko | NSW | Dress-ups | Kasia |
| Lynn Savery | Vic | Eloise da Silva as a fallen heroine (after Manet) | Eloise da Silva |
| Elif Sezen | Vic | Portrait of Ania Walwicz with her beard | Ania Walwicz |
| Jiawei Shen | NSW | A prince's family | Fu family: Jie, Linda and Roy |
| Evan Shipard | NSW | The stunt mullet | Paul Wallace |
| Michael Simms | NSW | Zaachariaha | Zaachariaha Fielding |
| Todd Simpson | Vic | Still screwed up | Todd Simpson |
| Andrea Sinclair | Vic | Surrender | Sarah Walker |
| Peter Smeeth | NSW | Jiri Kripac with the lockdown blues | Jiri Kripac |
| Peter Smeeth | NSW | Trompe-l'oeil self-portrait with old door | Peter Smeeth |
| Timothy Snowdon | NSW | David | Dave Argaet |
| Wendy Spindler | Vic | In the sky with diamonds | Jennifer Whitten |
| Wendy Spindler | Vic | ISO | Wendy Spindler |
| Claus Stangl | NSW | Sam Simmons | Sam Simmons |
| Oliver Stokes Hughes | NSW | Synecdoche | Oliver Stokes Hughes |
| Trish Tait | NSW | Nobody knows me like my piano | Tom Hogarth |
| Roxy Tsui | Vic | Woman eating pumpkin puree | Yuedda Sio |
| Michael Vale | Vic | Our ghostly crew (Michael Vale & Donna McRae with others) | Michael Vale / Donna McRae |
| David van Nunen | NSW | Self portrait at Waterfall, Collins Beach | David van Nunen |
| Craig Waddell | NSW | Self portrait floating in a sea of paint | Craig Waddell |
| Brooke Walker | SA | Lament | Brooke Walker |
| Natasha Walsh | NSW | The gaze (self-portrait after Klimt) | Natasha Walsh |
| Kat Weir | Vic | Kitiya | Kitiya Palaskas |
| Bruce Whatley | NSW | Remember when | Rosie Smith |
| Vicki White | NSW | Us 2021 | Vicki White & Eric Lobbecke |
| James Wild | WA | Joni: In time | Joni Sercombe |
| Madeleine Winch | NSW | Solitude (self portrait) | Madeleine Winch |
| Sally Winch Kay | Vic | Home schooling.  A portrait of three artists | Lizzie Dennis and daughters Agnes and Margot Dennis |
| Birrunga Wiradyuri | Qld | Mirror | Birrunga Wiradyuri |
| Stefan Wirihana Mau | Vic | Whakaahua Kiriaro (self portrait) triptych, 2021 | Stefan Wirihana Mau |
| Jonathon Woolven | SA | Doubt | Jonathon Woolven |
| Anne-Marie Zanetti | Qld | Introspection | Anne-Marie Zanetti |
| Michelle Zuccolo | Vic | Nik, the Mediterranean mathematician | Nik Sakellaropoulos |
View semi finalist artworks here