SEMI-­FINALISTS OF THE 2019 DOUG MORAN NATIONAL PORTRAIT PRIZE
We are delighted to announced 139 semi-finalists for the 2019 Doug Moran National Portrait Prize (DMNPP).  Portraits of Australians from all walks of life are featured amongst the semi-finalists including one of former Prime Minister Bob Hawke.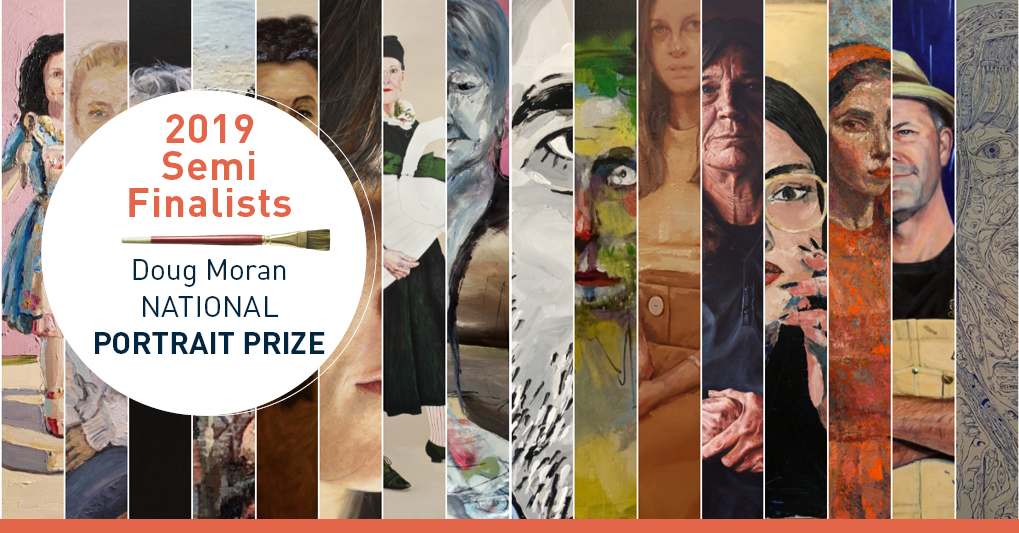 Other well-known sitters include Nova Peris, Noah Taylor, Annabel Crabb, Sigrid Thornton, Robert Forster, Magda Szubanski, Maeve O'Meara, Barry Otto, Kym Ellery, Gillian Armstrong, Julia Stone and fellow artists Lucy Culliton and Angelica Mesiti.
The DMNPP is Australia's richest art prize with prize money of $180,000 including a $150,000 first prize.
Leading Australian artists such as Anthony Lister, George Gittoes, Dagmar Cyrulla, James Powditch, Nicholas Harding, Peter Smeeth, Matilda Michell and Lewis Miller are semi-finalists, alongside previous DMNPP winners Lynn Savery, David Fairbairn, Michael Zavros, Vincent Fantauzzo and Peter Wegner.
The judges of the 2019 Doug Moran National Portrait Prize are artist and 2013 DMNPP winner Nigel Milsom, Director of the Ian Potter Museum of Art at the University of Melbourne, Kelly Gellatly, and Peter Moran, Managing Director of the Moran Health Care Group.  Peter's parents Greta and Doug Moran established the Moran Arts Foundation in 1988.
Judge Nigel Misom: "If portraiture is one of the means used to communicate our individuality, connection to each other, and the world around us, look no further than the 2019 Doug Moran National Portrait Prize Semi-Finalists. The variety and scope of the selected portraits are vast, yet they all seem to share a commonality, that is, the painter and subject have united to share in the 'magic' of creativity."
Judge Kelly Gellatly: "While the sheer volume of entries to this year's Doug Moran Portrait Prize was initially overwhelming, it was a privilege to experience such a breadth of contemporary portraiture and to be able to get a glimpse into how some of Australia's most talented artists are currently exploring, and pushing, the genre.  For the judges, the shortlisted artists collectively demonstrate the way in which portraiture can and should be much more than the sheer skill of capturing of a likeness. The power of portraiture instead manifests from the almost intangible coming together of artist and subject; a tension or 'rub' that encourages the viewer to remain with a work and to return to it time and again, well beyond the initial moment of recognising the subject."
The Moran Arts Foundation invites entries of original works from Australian artists, capturing Australians from all walks of life, whether a public figure or someone from their own circle of experience. Works must be painted at least partly from life with the sitter known to the artist and aware of the artist's intention to enter the Prize.
The finalists of the DMNPP will be announced on 16 October and the winner will be revealed on 30 October.  Exhibition details – read more.
2019 Doug Moran National Portrait Prize Semi-Finalists:
| | | | |
| --- | --- | --- | --- |
| Artist First | Artist Last | State | Artwork Title |
| what | | New South Wales | Robert Forster |
| Abdul | Abdullah | New South Wales | Often I am thinking about something else (Angelica at Jasper's studio) |
| Margaret | Ackland | New South Wales | Dreams |
| Iroda | Adil | South Australia | New song |
| Benjamin | Aitken | Victoria | Russel |
| Giles | Alexander | New South Wales | The Sophisticated Beggar |
| Joshua | Baldwin | South Australia | After the crash |
| Samantha | Beau | Queensland | Maree – widow of a war veteran |
| David | Beaumont | Victoria | Double self-portrait with lipstick, bird and anxiety |
| Natasha | Ber | Victoria | Janet Dawson |
| Peter | Berner | New South Wales | I'm going to continue to say things. |
| Kate | Beynon | Victoria | Hybrid self with kindred spirits |
| Barbara | Bolt | Victoria | Catherine Bell at the Jewish Museum, Berlin |
| Sally | Bourke | New South Wales | Catch |
| Shane | Bowden | New South Wales | A lady in Chanel ( my mother) |
| Leanne | Bray | Western Australia | Eleven years on |
| David | Bromley | Victoria | Who's that girl |
| Jimmi | Buscombe | Victoria | Dandrogyny |
| Daniel | Butterworth | Victoria | Greg |
| Janda | Cadd | Queensland | Painting Nova |
| Hua Cun | Chen | Victoria | Who am I |
| Louisa | Chircop | New South Wales | Juz Kitson – Love and Interrogation |
| Mimi | Choi | New South Wales | Baba |
| Rachel | Coad | Western Australia | Emma |
| Yvette | Coppersmith | Victoria | Self-portrait with gladioli |
| Luke | Cornish | New South Wales | Chesterfield #2 |
| Melanie | Coutts | New South Wales | Isabella |
| Daveena | Cox | Western Australia | A head full of ideas |
| Martie | Curtis | Western Australia | Sunday Morning |
| Dagmar | Cyrulla | Victoria | Kym |
| Joanne | Daniel | Victoria | Joanne Daniel |
| David | Darcy | New South Wales | Fran |
| Philip | David | South Australia | Nicholas the budding artist |
| Sinead | Davies | New South Wales | Tanya |
| Tamara | Dean | New South Wales | Blue |
| Carolyn | Donovan | Queensland | Portrait of emergence |
| James | Drinkwater | New South Wales | Philip Jamieson, I'll meet you off Broadway |
| Nicolette | Eisdell | New South Wales | John Seed OAM, Environmentalist. |
| David | Fairbairn | New South Wales | Portrait of T.J.K.No2 |
| Vincent | Fantauzzo | Victoria | Polarized |
| Betina | Fauvel-Ogden | Victoria | Pascale |
| Robert | Fenton | Victoria | She was right there with it and she was |
| Dominic | Fitzjohn | Queensland | Untitled |
| Louise | French | New South Wales | Eric |
| Sarah | Gabriel | Victoria | Lucy Kitty and Lacey in the good room |
| Margarita | Georgiadis | New South Wales | His 80th Year – Max Cullen |
| Tara | Gibbs | New South Wales | Phoebe |
| George | Gittoes | New South Wales | George, Self Portrait with Camera |
| Danielle | Gordon | Queensland | Intensity of the gaze |
| Erica | Gray | Queensland | My dad |
| Jane | Grealy | Queensland | Axis Mundi ( Harry in the Window) |
| Rachel | Grove | Victoria | Self portrait (thinking about climate change) |
| Jane | Guthleben | New South Wales | The baker (Annabel as an ornament) |
| Marieka | Hambledon | South Australia | A strong lead |
| Ildiko | Hammond | New South Wales | Self-Portrait III |
| Nicholas | Harding | New South Wales | Keith Robinson 2019 |
| Tom | Hermann | South Australia | Understanding Tsering: shadow and light |
| Doug | Heslop | New South Wales | Far away (Where you cannot judge or control me) |
| Josh | Honeyman | New South Wales | Between The Click Of The Light And The Start Of The Dream |
| Ben | Howe | Victoria | Matilda |
| Polly | Ifould | Victoria | Jenny Sages |
| Di | James | New South Wales | Kathy |
| Wonjun | Jo | New South Wales | untitled |
| Melody | Jones | New South Wales | Portrait of a flying fruit fly aka Ruby Rowat |
| Melissa | Kenihan | Victoria | Outside in |
| Caroline | Kennedy | Victoria | Ben reading David Marr |
| Matthew | Kentmann | New South Wales | On The Periphery |
| Jasper | Knight | New South Wales | Half a chicken and chips |
| Zai | Kuang | Victoria | Corridor |
| David | Kurzydlo | New South Wales | Self Portrait of the Artist in Utero |
| Clare | Leeuwin-Clark | Victoria | Ann Caddey |
| Kim | Leutwyler | New South Wales | Watson |
| Richard | Lewer | Victoria | As a bald man, I miss going to the Barber |
| Anthony | Lister | New South Wales | Barry Otto |
| Mathew | Lynn | New South Wales | Traveling (Delta Lady) |
| Paul | Maher | New South Wales | White jumper |
| Terence | Mahony | New South Wales | Magda Suzbanski Rainbow Warrior |
| Robert | Malherbe | New South Wales | Tiatia |
| John | Mandich | Victoria | Jordan Hanna |
| Harley | Manifold | Victoria | Self portrait over landscape |
| Scott | Marsh | New South Wales | Captains knock |
| Terry | Matassoni | Victoria | Eric |
| Kelly | Mathews | New South Wales | Through Rose Tinted Glasses |
| Laura | Matthews | New South Wales | Natural Habitat |
| Melisah | May | New South Wales | Robert |
| Abbey | McCulloch | Queensland | 7.55pm |
| Rob | McHaffie | Victoria | Carnegie (after dumplings) |
| Joshua | McPherson | New South Wales | Afterward (Portrait of Matt Nable) |
| Matilda | Michell | New South Wales | Self portrait at the age of 36 |
| Lewis | Miller | Victoria | Self portrait 2019 |
| Jennifer | Mills | Victoria | In the echo chamber (WARNING! NUEAO self-portrait) |
| Stephanie | Monteith | New South Wales | In a bubble (self-portrait) |
| John | Morris | New South Wales | Rose with phone |
| Florentina | Munteanu | Victoria | Stand Self Portrait in day light 2019 |
| Petra | Nancarrow | Queensland | Afternoon tea |
| James | Needham | New South Wales | Sisters |
| Kirsty | Neilson | New South Wales | The place that calls me |
| Ellie | Noir | South Australia | Our Solitary Burdens/As The Tides Rise |
| Adam | Norton | New South Wales | Blak Douglas Warp Drive |
| Liam | Nunan | New South Wales | Here it comes |
| Liam | Nunan | New South Wales | Peter Nunan |
| Wayde | Owen | New South Wales | New Skin |
| Rodney | Pople | New South Wales | Ken and Anya 2 |
| James | Powditch | New South Wales | Frost |
| Jamie | Preisz | New South Wales | Like A Rolling Stone |
| Samuel | Quinteros | New South Wales | Quan (Dyad) |
| Dale | Rhodes | New South Wales | Jane |
| Jenny | Rodgerson | Victoria | Solitary Figure No 4 (self portrait in green jacket) |
| Megan | Roodenrys | South Australia | Empty nester |
| Peter | Rudd | Tasmania | Self-Portrait |
| Paul | Ryan | New South Wales | Colonial boy, Noah Taylor |
| Lynn | Savery | Victoria | Back on his Feet Again |
| Lynn | Savery | Victoria | God Save the Queen |
| Simon | Schneider | Victoria | Josephine – Universe No. 2 |
| Wendy | Sharpe | New South Wales | Self Portrait with Circus Banner |
| Randall | Sinnamon | New South Wales | Uncle Laddie Timbery |
| Jackson | Slattery | Victoria | Dre |
| Dee | Smart | New South Wales | Pippa |
| Peter | Smeeth | New South Wales | Elora |
| Peter | Smeeth | New South Wales | Rough Head Self Portrait |
| Peter | Smeeth | New South Wales | Poster Girl – A Portrait of Bettina Arndt |
| Wendy | Spindler | Victoria | Bravura |
| Vanessa | Stockard | New South Wales | Self Portrait |
| Noriko | Sugita | New South Wales | My wrinkles are my stripes |
| Ben | Tankard | New South Wales | Linda Swinfield |
| Louise | Tate | Victoria | A bronze weapon smelling of honey (after Kate Llewellyn) |
| Joy | Tatt | Victoria | Em |
| Clare | Thackway | New South Wales | Membrane |
| Alex | Thorby | New South Wales | Artist Dick Watkins |
| Craig | Waddell | New South Wales | Into he darkness – (Portrait of Julia Stone) |
| Natasha | Walsh | New South Wales | The eternal metamorphoses |
| Oliver | Watts | New South Wales | Steering for dream (Ben Storrier) |
| Peter | Wegner | Victoria | Buddy Miller Amputee Daddy |
| Marcus | Wills | Victoria | Zeke and Zack as Dylan and Eric |
| Madeleine | Winch | New South Wales | Self portrait – Tribute to Edmund Capon |
| Sally | Winch Kay | Victoria | Beautiful Maeve |
| Heidi | Yardley | Victoria | Gareth Sansom – Grand Guignol |
| Michael | Zavros | Queensland | White crash |
| Caroline | Zilinsky | New South Wales | The Man of Polynomial Time |