SEMI-­FINALISTS OF THE 2019 MORAN CONTEMPORARY PHOTOGRAPHIC PRIZE REVEALED
The Moran Contemporary Photographic Prize (MCPP) is one of Australia's most coveted photography prizes and we are pleased to announced the semi-­finalists of this year's competition.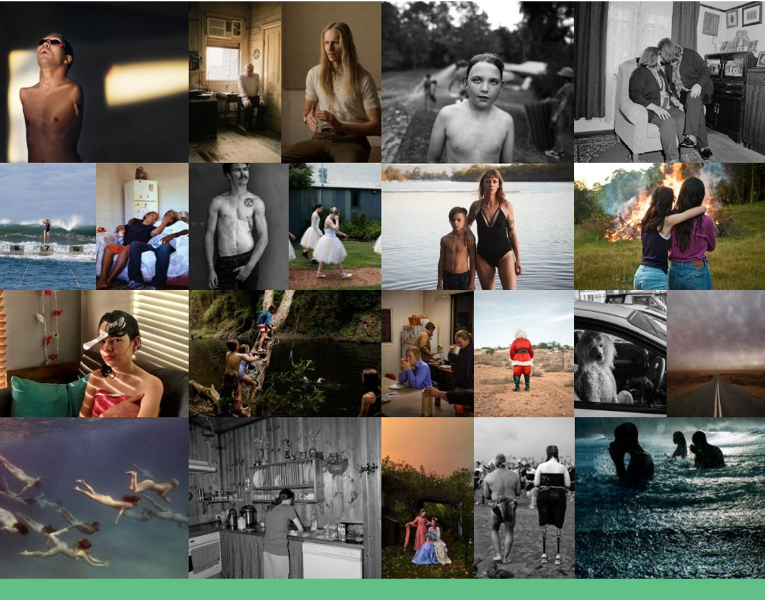 Close to 3000 photographs were submitted for consideration and the judges have narrowed this down to 230 semi-­finalists. The Moran Contemporary Photographic Prize has prize money of $100,000, including a $50,000 first prize. This year, the range of subjects in the semi-­finalist list is broad, with photographers invited to tell a story of how they experience living in Australia; places,people and lifestyle that make our lovable country quintessentially Australian.
The 2019 MCPP is being judged by Cheryl Newman and Jon Jones and this year they are joined by Australian photographer, artist and filmmaker Stephen Dupont. Cheryl Newman is a respected international photographer and curator and Jon Jones is a celebrated international photojournalist and photo editor.
Cheryl Newman commented on the judging of the semi-­finalists: "Powerful landscapes and infinite skies provide a back drop for family life and a sense of community which open up this conversation about Australian daily life. The challenge facing the photographer is to capture moments that will enlighten, provoke, amuse, and move the viewer. For the judges, to find the winner from nearly 3000 images entered into the competition. With many exceptional entries it calls for tough choices to be made, it has been a rich and rewarding experience so far."
Stephen Dupont said: "Judging this year's semi-­finalists was an epic challenge. It's a bit like holding your breath under water and each time you come up for air you are graced with a surprising and poetic moment in Australian photography. I am looking for the imperfections and uniqueness emotionally that only photography can give".
The Moran Contemporary Photographic Prize (MCPP) was established in 2007 by the Moran Arts Foundation and it awards and promotes Australian contemporary photography and excellence in all forms of still, photo-­based artwork -­ including analogue and digital photography or staged and directorial photo-­media work.
As part of their ongoing commitment to the arts, The Moran Arts Foundation has hosted free photography workshops in schools around Australia for many years. The Moran Contemporary Photographic Prize also includes student categories and this year's Student Prizes will be judged by Sally Mayman (Years K-­6), Nicki Jackson (Years 7-­8), Jim Filmer (Years 9-­10) and Louise Whelan (Years 11-­12).  Almost 6000 entries were received in the student categories.
The finalists of this year's prize will be announced on Wednesday 3 April. The winner of the Moran Contemporary Photographic Prize will be announced on Tuesday 7 May. The Moran Contemporary Photographic Exhibition opens on Saturday 4 May and runs until Sunday 2 June at Juniper Hall in Paddington.
A GALLERY OF OPEN SEMI-FINALISTS CAN BE VIEWED HERE
A GALLERY OF STUDENT SEMI-FINALISTS CAN BE VIEWED HERE
2019 Moran Contemporary Photographic Prize Open Semi-Finalists:
| | | | | |
| --- | --- | --- | --- | --- |
| First Name | Last name | City, Suburb or Town | State | Artwork Title |
| Matthew | Abbott | Manly | NSW | Double life |
| Matthew | Abbott | Manly | NSW | Breaky Before Dawn |
| Matthew | Abbott | Manly | NSW | The Yards |
| Matthew | Abbott | Manly | NSW | Young Ringer |
| Matthew | Abbott | Manly | NSW | Pet cow |
| Matthew | Abbott | Manly | NSW | The Help |
| Matthew | Abbott | Manly | NSW | Dust and Sweat |
| Marian | Abboud | Granville | NSW | Crying the Ocean |
| Michele | Aboud | Surry Hills | NSW | Daniel |
| Peter | Adams | Katoomba | NSW | President of the AIPP |
| Peter | Adams | Katoomba | NSW | Adam Scarf Photographer |
| Jenna | Agius | Currumbin | Qld | Waiting Game |
| Scott | Andrews | Queenscliff | Vic | Holden Dave |
| Anna Maria | Antoinette D'Addario | Sydney | NSW | Lamin Tucker's Children |
| Sarah | Barker | Newtown | NSW | Matilda |
| Janie | Barrett | COOGEE | NSW | Pokie Addiction |
| John | Benavente | Mt Warrigal | NSW | Fernando Fishing |
| Simon | Bernhardt | Camperdown | NSW | Greater Western Sydney |
| Simon | Bernhardt | Camperdown | NSW | Portrait of Matthew, Live Export Driver, Kangaroo Island |
| Madeline | Bishop | Brunswick | Vic | An Alternate Reality Where I Never Put you Down |
| Paul | Blackmore | Tamarama | NSW | Heat |
| Paul | Blackmore | Tamarama | NSW | Immersion |
| Paul | Blackmore | Tamarama | NSW | Heat 2 |
| James | Brickwood | North Curl Curl | NSW | Friends |
| Megan | Broadbent | Lane Cove North | NSW | Matriarch |
| Millie | Brown | Unley Park | SA | Zoe and Matilda |
| Tanja | Bruckner | Sydney | NSW | Emma II |
| Chris | Budgeon | Elsternwick | Vic | No One Plays Here Anymore |
| Chris | Budgeon | Elsternwick | Vic | Stumble |
| Chris | Budgeon | Elsternwick | Vic | Tom and Orlando on a Sunny Day |
| Alfonso | Calero | Lane Cove | NSW | Community |
| Ross | Calia | Fitzroy North | Vic | Hazel Isn't Tired |
| Dave | Carswell | Kew | Vic | Gold Coast |
| Narelle | Carter | Kogarah Bay | NSW | Timeshare 2019 |
| Rebecca | Carter | Newcastle | NSW | Blended |
| Aletheia | Casey | Callala Bay | NSW | Ella |
| Brian | Cassey | Stratford | Qld | Tomotaro On The Block |
| Brian | Cassey | Stratford | Qld | Rain Over Black Mountain |
| Aaron | Chapman | Southport | Qld | Todd & Alana (2018) |
| Rachel | Clarke | Kalgoorlie | WA | Breathing Rain |
| Mike | Clements | Frenchs Forest | NSW | When you Wear the White Jump-Suit you are Elvis |
| Tim | Coad | Tranmere | Tas | Her |
| Adrian | Cook | Stanmore | NSW | Alexis Okeowo |
| Adrian | Cook | Stanmore | NSW | Elizabeth |
| Adrian | Cook | Stanmore | NSW | Sam & Mark |
| Fiona | D'Alessandro | Adelong | NSW | Dust |
| Dean | Dampney | Lake Tabourie | NSW | Boys |
| Karen | Davis | MCCULLYS GAP | NSW | Old Man Reminiscing' |
| Karen | Davis | MCCULLYS GAP | NSW | The Weathered Farmer |
| Gitama | Day | Murwillumbah | NSW | The Art of  Making Paper Planes |
| Tamara | Dean | Cambewarra | NSW | The Waterhole |
| Tamara | Dean | Cambewarra | NSW | Howl |
| Tamara | Dean | Cambewarra | NSW | Jack |
| Tamara | Dean | Cambewarra | NSW | Slip n Slide |
| Tamara | Dean | Cambewarra | NSW | Next in line |
| Tamara | Dean | Cambewarra | NSW | Tree Notches |
| Tamara | Dean | Cambewarra | NSW | Staring Competition |
| Tamara | Dean | Cambewarra | NSW | Endangered |
| Yask | Desai | Melbourne | Vic | Sailor, Craigieburn, 2018 |
| Damian | Dillon | Sydney | NSW | My Sadness at her forgetting |
| Melissa | Drummond | Lamington | WA | Christmas Night, West Kalgoorlie |
| Sarah | Dugan | Walgett | NSW | Ghosts and Memories Live Here Too |
| Jenny | Evans | Sydney | NSW | Our Darling is Dying |
| Adam | Ferguson | Newport | NSW | Drought 1 |
| Adam | Ferguson | Newport | NSW | Drought 2 |
| Adam | Ferguson | Newport | NSW | Drought 4 |
| Adam | Ferguson | Newport | NSW | Drought 5 |
| Adam | Ferguson | Newport | NSW | Filipino Immigrants, Pyramid Hill |
| Adam | Ferguson | Newport | NSW | Drought 6 |
| Adam | Ferguson | Newport | NSW | Drought 7 |
| Adam | Ferguson | Newport | NSW | Ned Kelly Impersonator, South Australia |
| Adam | Ferguson | Newport | NSW | Drought 8 |
| Adam | Ferguson | Newport | NSW | Drought 10 |
| Sam | Ferris | Newtown | NSW | King Street, November 2018 |
| Sam | Ferris | Newtown | NSW | Manly Ferry, June 2018 |
| Sam | Ferris | Newtown | NSW | From the B1, Narrabeen, August 2018. |
| Ian | Flanders | Sydney | NSW | Gerringong Boat Harbour III |
| Christian | Fletcher | Dunsborough | WA | Looking for shade |
| Mark | Forbes | Black Rock | Vic | Siblings |
| Jon | Frank | Kangaroo Valley | NSW | Harry Jones, Stockman. Yuendumu, NT; 2019 |
| Alex | Frayne | NORTH ADELAIDE | SA | Celebration |
| Camilla | French | EINASLEIGH | Qld | The Playground |
| Camilla | French | EINASLEIGH | Qld | Summertime |
| Nicholas | Garcia | Surry Hills | NSW | Girl looking out of the window |
| Adam | Gibson | Lindisfarne | Tas | Life on station |
| Dean | Golja | Upwey | Vic | The Australian |
| Jesse | Grant | Chatsworth | Qld | Suburban Rhapsody |
| Mike | Gray | Fremantle | WA | This monkey's gone to heaven |
| Katherine | Griffiths | Kensington | NSW | A Simple Love |
| Natalie | Grono | Lennox Head | NSW | The Gift |
| Natalie | Grono | Lennox Head | NSW | Cooling |
| Liz | Ham | St Peters | NSW |  Self Portrait with First Born (Pre Partum Post) |
| Sam | Harris | Balingup | WA | Sean |
| Sam | Harris | Balingup | WA | Sisters 2018 |
| Sam | Harris | Balingup | WA | Yali, combing accident |
| Sam | Harris | Balingup | WA | Uma & Yali |
| Sam | Harris | Balingup | WA | The Little Ones at the Circus Festival |
| Simon | Harsent | Marrickville | NSW | Summer |
| Matt | Harvey | Parkdale | Vic | Wreck |
| Andy | Hatton | Collingwood | Vic | Man-Gala |
| Sahlan | Hayes | KANGALOON | NSW | The End |
| Bronwen | Healy | BITTERN | Vic | After the Race |
| Leigh | Henningham | Elwood | Vic | Cat and a Hot Tin Roof |
| Greg | Hillman | Kuranda | Qld | James 4:14 |
| Lachie | Hinton | Alexandria | NSW | Portrait of Iranian Refugee on Nauru |
| Lisa | Hogben | Ingebirah | NSW | Ngarigo Woman |
| Alana | Holmberg | BRUNSWICK | Vic | Greta and Jeremy by Edgars Creek |
| Mark | Hopper | Box Hill | Vic | Cupid – The Flying Cupid of Venus Bay |
| Alexander | Housalas | Sylvania | NSW | Saver of Life |
| Alexander | Housalas | Sylvania | NSW | The Bondi |
| Max | Howe | Katoomba | NSW | Directions |
| Jessica | Hromas | Paddington | NSW | Angela Penrith |
| Glenn | Hunt | STAFFORD | Qld | How To Make Gravy |
| chris | ireland | Asquith | NSW | Jonathan |
| chris | ireland | Asquith | NSW | Cultivation |
| Chris | Ireland | Asquith | NSW | Jonathan Study 1 |
| Sean | Izzard | Cronulla | NSW | Cowboy |
| Sean | Izzard | Cronulla | NSW | Cowboys |
| Marieka | Jacobs | Kangaroo Valley | NSW | Girls on Balcony |
| Ketakii | Jewson-Brown | Maleny | Qld | Down By The Line |
| Mike | Keevers | Potts Point | NSW | Market Street, 2018 |
| Todd | Kennedy | Ryde | NSW | Living the dream |
| Todd | Kennedy | Ryde | NSW | Plastic Shoreline |
| James | Kerr | Fremantle | WA | At the Shopping Centre Carpark |
| Isabella | Kerstens | Newport | NSW | Tanline |
| Charlie | Kinross | Eltham | Vic | Hilary Finch |
| Charlie | Kinross | Eltham | Vic | Chan Nyok |
| Charlie | Kinross | Eltham | Vic | Riverside Station |
| Joseph | Koh | Sydney | NSW | Revelry |
| Ashlee | Laing | Tallangatta | Vic | Tallangatta |
| Sandra | Lamonaca | Coburg North | Vic | Backyard Cricket |
| Dean | Lewins | Stanwell Park | NSW | 100% Drought |
| Dean | Lewins | Stanwell Park | NSW | Mismanaging Menindee |
| Max | Mason-Hubers | Lambton | NSW | Home |
| Jonathan | May | Sydney | NSW | Sal and Claudia |
| Wendy | McDougall | Maroubra | NSW | Don't Kill Live Music |
| Joseph | McGlennon | Sydney | NSW | Dark Wings |
| Charles | McKean | Woollahra | NSW | Mum's Last Breath |
| Trent | Mitchell | Gold Coast | Qld | Jack Macrae. Inner Atlas, 2018. |
| Trent | Mitchell | Gold Coast | Qld | Robert Sherwood. Inner Atlas, 2018. |
| Trent | Mitchell | Gold Coast | Qld | Jack Macrae. Inner Atlas, 2018. |
| Nicholas | Moir | Newport | NSW | Death on the Darling |
| Graham | Monro | Leichhardt | NSW | Christmas |
| Rachel | Mounsey | Mallacoota | Vic | Between Acts |
| Justine | Muller | Sydney | NSW | Uncle Badger Bates- Barkandji Elder and River actavist |
| Cameron | Neville | GUANABA | Qld | Last Drinks |
| Alexandra | Nielsen | Carlton North | Vic | Swimming with Barramundi |
| Alexandra | Nielsen | Carlton North | Vic | Back Porch Kangaroo |
| Rosalie | Nilson | Darling Point | NSW | Insouciance |
| Naomi | Norris | MUSWELLBROOK | NSW | The Story Teller |
| Jake | Nowakowski | Eltham | Vic | Hungry Flock |
| Tajette | O'Halloran | Reservoir | Vic | Untitled |
| Tajette | O'Halloran | Reservoir | Vic | Untitled |
| Tajette | O'Halloran | Reservoir | Vic | Untitled |
| Tajette | O'Halloran | Reservoir | Vic | Untitled |
| Susan | Papazian | NORTH WAHROONGA | NSW | The Backyard Portrait |
| Alexandrena | Parker | Upper Beaconsfield | Vic | Unsupervised at The Broken Hill Housewives Association |
| Pamela | Pauline | Mona Vale | NSW | Last Light |
| Emma | Phillips | KENSINGTON | Vic | Diane washing dishes at her father's house |
| Emma | Phillips | KENSINGTON | Vic | Untitled (Denise and Diane twinning) |
| Emma | Phillips | KENSINGTON | Vic | Untitled (Lucy at Sammy's House) |
| Brydie | Piaf | Adamstown Heights | NSW | Sunday |
| Brydie | Piaf | Adamstown Heights | NSW | Vera |
| David | Porteus | Yarraville | Vic | Pretty Ugly Eleanor |
| Joel | Pratley | Redfern | NSW | Simone |
| Joel | Pratley | Redfern | NSW | My Brother & His Family |
| Joel | Pratley | Redfern | NSW | Fayez & Abs |
| Jonathan | Pui | Castlecrag | NSW | Rush Hour |
| Wayne | Quilliam | Hopetoun Park | Vic | Cultural Evolution |
| Peter | Rae | Coogee | NSW | #climatechange 2 |
| Mark | Raffety | Bentleigh East | Vic | Bronson. Melbourne. November 2018. Young Aboriginal artist and Man of Action |
| Gary | Ramage | Dickson | SA | Dad's Alzheimers |
| Asanka Brendon | Ratnayake | Melbourne | Vic | Kaleb the Aboriginal Bull Rider |
| Alberto Monte | Rego | Teneriffe | Qld | Danielle, under the clouds of the sea #2 |
| Alberto Monte | Rego | Teneriffe | Qld | Jade in the pool #1 |
| Madelena | Rehorek | Brunswick West | Vic | Kaif |
| Jon | Reid | Lambton | NSW | Trial Bay Snorkel Posse |
| Johannes | Reinhart | Doubleview | WA | Junction |
| Johannes | Reinhart | Doubleview | WA | Snow in Perth |
| Sarah | Rhodes | Newstead | Tas | Identical twins on the spectrum |
| Tess | Rice | Burwood East | Vic | Into The Music |
| Hayden | Richards | Elliston | SA | Lost at Sea |
| Hayden | Richards | Elliston | SA | The White Highway |
| Hayden | Richards | Elliston | SA | Mid Summer Madness |
| Lindsay | Roberts | Sale | Vic | Oscar and Lucinda (Bridget) |
| Chris | Round | Bellevue Hill | NSW | Near Bronte, NSW |
| Sandra | Ryan | Sapphire | Qld | Temporary Permanent |
| Russell | Shakespeare | Currumbin Valley | Qld | Currumbin Valley Rock Pool |
| Stephanie | Simcox | Glenbrook | NSW | The Reservoir |
| Peter | Solness | Maroubra | NSW | Gavin Wilson and Maggy Todd – Warry's Cottage Hill End NSW 2018 |
| Peter | Solness | Maroubra | NSW | The Night Garden (Haefligers Cottage Series #5) Hill End NSW 2018 |
| Prue | Stent | Coburg | Vic | In-Her-It |
| Tristan | Still | Enmore | NSW | Serwah |
| Tristan | Still | Enmore | NSW | Raynen |
| Nathan | Stolz | Brunswick | Vic | Anna and Nungarrayi |
| Nathan | Stolz | Brunswick | Vic | Barkly Work Camp |
| Nathan | Stolz | Brunswick | Vic | Fatma, Sydney |
| Nathan | Stolz | Brunswick | Vic | General Store |
| Nathan | Stolz | Brunswick | Vic | Joanne and Anthony |
| Nathan | Stolz | Brunswick | Vic | Irene, Lajamanu |
| Nathan | Stolz | Brunswick | Vic | Moroopna Mosque |
| Nathan | Stolz | Brunswick | Vic | Lollipop Lane |
| Nicola | Stone | Palmwoods | Qld | Golden Hour |
| Ryan | Stuart | Newtown | NSW | Emu, Mica Street |
| Ryan | Stuart | Newtown | NSW | Storm, Mundi Mundi |
| Cassie | Sullivan | South Hobart | Tas | Mum 02 |
| Jason | Thomas | Claremont | WA | After the Show |
| Jason | Thomas | Claremont | WA | Who Talks For My Country Now? |
| Noah | Thompson | Footscray | Vic | Susan |
| Tobias | Titz | Brunswick | Vic | Ute country |
| Tobias | Titz | Brunswick | Vic | Joseph Lane |
| Craig | Tuffin | BANORA POINT | NSW | Me Too |
| Craig | Tuffin | BANORA POINT | NSW | Plastic Homicide |
| Abigail | Varney | Brunswick East | Vic | Totem |
| Alex | Vaughan | Castlecrag | NSW | On The Cusp |
| Alex | Vaughan | Castlecrag | NSW | Sumbawa Pride – Down The Hatch |
| Belle | Verdiglione | Wembley | WA | Amber |
| David | Wadelton | Northcote | Vic | Pascoe Vale South bedroom |
| Hilary | Walker | RESERVOIR | Vic | Canary For Sale |
| Hilary | Wardhaugh | Queanbeyan | NSW | Women's Campdraft Queanbeyan Rodeo |
| Drew | WheelerM | elbourne | Vic | Rusty Landscape |
| Drew | Wheeler | Melbourne | Vic | Red Board Bells |
| Drew | Wheeler | Melbourne | Vic | Sunbather |
| Les | Williamson | Elwood | Vic | Stranded |
| Felix | Wilson | Marrickville | NSW | 6ft.13in |
| Rebecca | Wiltshire | Wembley Downs | WA | O |
| Rebecca | Wiltshire | Wembley Downs | WA | Dog Beach |
| Marta | Yebra | Canberra | ACT | Water heads |
| Toby | Zerna | Denistone East | NSW | Ballet boots |
| Yb | | Perth | WA | Inside |