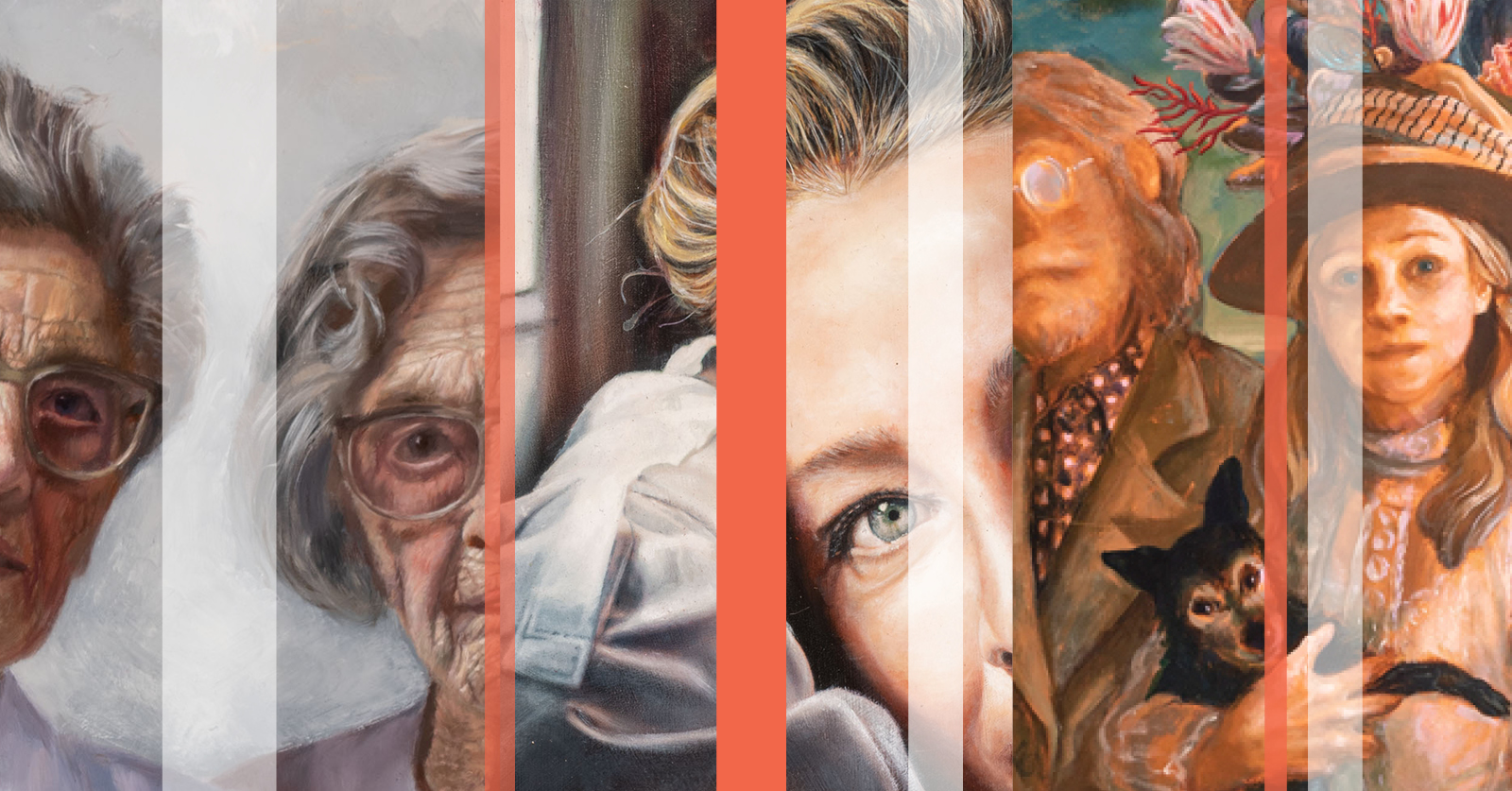 THREE WINNERS IN AUSTRALIA'S RICHEST ART PRIZE
Vincent Fantauzzo, Andrew Greensmith and Michael Vale have been revealed by the Moran Arts Foundation as joint winners of the 2021 Doug Moran National Portrait Prize, Australia's richest art prize.  For the first time in the history of the Prize, the joint winners each received $100,000 prize money for their artworks, effectively doubling the prize pool originally promised.
The winners were named at a special announcement ceremony at Sydney's historic Juniper Hall, with the exhibition experience going online for public viewing.
The three Victorian based winners attended the ceremony for the presentation with Moran Arts Foundation co-founder Greta Moran AO and judges Tim Storrier AM and Peter Moran.
2011 winner and multiple finalist Vincent Fantauzzo was accompanied by his wife Asher Keddie who was the subject of his winning work 'Muse'. He commented that throughout history artists from many fields often referred to their muse as a source of inspiration which he had never understood until he found his muse.
Renowned plastic and reconstructive surgeon Andrew Greensmith, a previous Archibald finalist, was also named a winner for his painting 'Two lives one soul' featuring twins Annette Able and Stephanie Heller, identical twin survivors of Auschwitz.  In his moving tribute to the sisters, Greensmith says "It struck me that portraiture is a wonderful and very permanent way of not letting people or events be forgotten."
Prominent award-winning Melbourne artist Michael Vale has further explored his favourite subject matter of gothic narratives with his work 'Our ghostly crew' featuring himself and fellow gothic enthusiast, his wife, filmmaker Donna McRae surrounded by their crew and pet Pancho.
Three winners were chosen this year due to the diversity of artworks in the field of thirty finalists.  The 2021 judges were; Emeritus Director of the Art Gallery of South Australia Daniel Thomas AM, prominent Australian artist and 2017 DMNPP winner Tim Storrier AM and Peter Moran, Managing Director of the Moran Health Care Group.  Peter's parents Doug and Greta Moran AO established the Moran Arts Foundation in 1988.
Judge Daniel Thomas AM commented
"In general, the 30 finalist portraits were intensely individual yet modest. We were surprised to find that we admired strange twosomes."
Judge Tim Storrier AM commented
"Judging art prizes can be a rather fraught experience, especially if you are a painter.  As you well know the disappointment of exclusion and not winning – in a way you would prefer all the artists to be hung and to win but of course, it can't be so.

When judging paintings there are objective matters to consider; technical qualities, drawing, composition, scale, medium and the general quality and appearance of the finished work of art.  There are also subjective evaluations as each judge is an individual with a unique background and experience.  One may say an idiosyncratic 'taste'.  It takes many hours of concentrated study to evaluate and decide the quality of an entry – to include it in the final hang or disappoint the artist.

As with all prizes of this nature people will disagree on the choices, they always do, however they can't deny the generosity of the Moran Foundation. Afterall the equivalent of 3 Archibald Prizes in one day is really something – a dauber's trifecta."
Doug Moran National Portrait Prize invites original artworks from Australian artists, capturing Australians from all walks of life, whether a public figure or someone from their circle of experience. Works are painted at least partly from life with the sitter known to the artist and aware of the artist's intention to enter the Prize.
MEDIA ENQUIRIES: For further information or images, please contact us.
View online gallery here
(Please note there will be no exhibition of finalists at Juniper Hall for 2021)