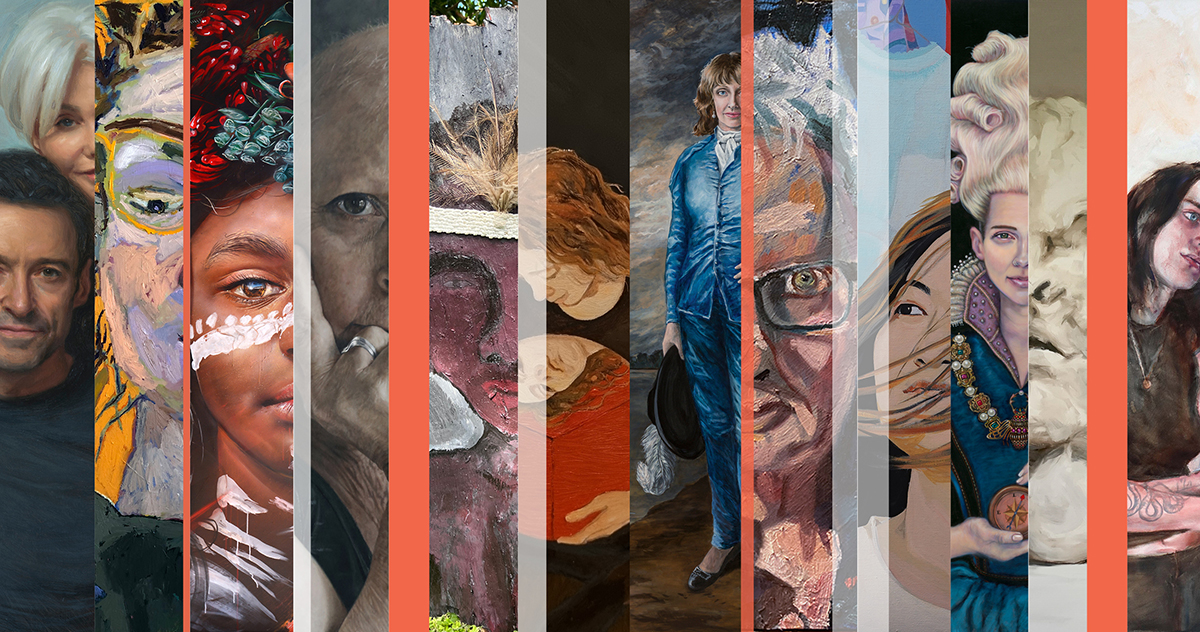 View the Semi Finalist Gallery Here
Portraits of Deborah Cheetham AO alongside Hugh Jackman with Deborra-Lee Furness AO and Adam Goodes are amongst the 2022 Doug Moran National Portrait Prize Semi-Finalists
We are excited to announce 214 semi-finalists in the 2022 Doug Moran National Portrait Prize (DMNPP), Australia's richest portrait prize.  Portraits of Australians, both well known and unknown, are among the semi-finalists' artworks depicting actors, activists, politicians, artists, doctors, sports stars and many self portraits, in a selection from almost every corner of the country.
Both emerging and renowned Australian artists feature in the list of semi-finalists announced today (see below).  The semi-finalists are in the running for a $150,000 first prize and will be whittled down to 30 finalists announced on November 3 ahead of the final judging and announcement on November 30.
The semi-finalists were selected from a field that saw a large increase in entries over the previous year, returning the interest in the Prize to pre-COVID levels and ensuring a robust field of incredible skill and competition according to the judges.
The 2022 Prize is judged by Gerard Vaughan AM, Australian art historian and museum administrator, Lucy Culliton, one of Australia's foremost contemporary artists and Peter Moran, Moran Arts Foundation.  Peter's parents Doug and Greta Moran AO established the Moran Arts Foundation in 1988 to fulfil their dream of helping Australian artists along the path to excellence.
Judge Gerard Vaughan AM commented
"It has been a pleasure and privilege to participate in the judging of the Moran Prize. I have been impressed by the sheer quality of works submitted, and the variety of ways in which so many artists have explored – and extended – the idea of what a portrait could be, what it tells us about both the sitter and the painter, and the personal and social contexts which each painter explores. Our years of confronting the pandemic are one theme. I have also been very struck by the interesting self portraits submitted, and by the high number of portraits of an artist's painter friends. In fact, this fascinating body of work represents not only each painter's 'reflection' of another human being, so often emotional, deeply personal and heartfelt, but also the ideas, interests and tastes which define a moment in time – right now, here in Australia."
Doug Moran National Portrait Prize judges original artworks from Australian artists, capturing Australians from all walks of life, whether a public figure or someone from the artist's circle of experience. Works are painted at least partly from life with the sitter known to the artist and aware of the artist's intention to enter the Prize.
Read more about the Prize here 
Dates
Finalists will be notified on 3 Nov 2022
Winner announced: 30 Nov 2022
Prize
The winner of the 2022 Doug Moran National Portrait Prize will receive $150,000
Judges
Media Enquiries
Please contact Carolyn Grant, Avviso PR
View the Semi Finalist Gallery Here
List of 2022 Semi-Finalists
| | | | | |
| --- | --- | --- | --- | --- |
| First name | Last name | Entry | State | Sitter's Name/s |
| Margaret | Ackland | Self Portrait with Still Life and Studio Interior. | NSW | Margaret Ackland |
| Luke | Adams | Self-Portrait with Hoodie | VIC | Luke Adams |
| Matt | Adnate | State of Mind | NSW | Tedashii Cora, Bilin-lorikeet |
| Adam | Alcorn | Joan | NSW | Joan Forest |
| Phil | Alldis | Dad | NSW | Len Alldis |
| Zima | Anderson | A poet will always mesmerise the soul | VIC | Nyaluak M Leth |
| Sarah | Anthony | Frontline | VIC | Ange Kelly, Clinical Nurse Specialist , Trish Kelly, Clinical Support Nurse |
| Daryl | Austin | Self Portrait (studying a painting) 2022 | SA | Daryl Austin |
| Roz | Avent | Pip | VIC | Pip Avent |
| Peter | Barker | rememberance | WA | Marta Garcia |
| Michael | Bell | Starting a portrait of Mark Mordue. | NSW | Mark Mordue |
| Owen John | Biljabu | Corban Clause Williams | WA | Corban Clause Williams |
| Joe | Blundell | In the shadow of Charlie's hair | VIC | Charlie Blundell |
| Denise | Bond | Michael the Mountaineer | VIC | Michael Bond |
| Frank | Boyle | Self-Portrait…Unmasked! | NSW | Frank Boyle |
| Alanah | Brand | Chest Pain | VIC | Alanah Ellen Brand |
| Claus | Bredow | Aunt Paula Duncan, Gamilaroy elder | NSW | Aunty Paula Duncan |
| Cynthia | Breusch | In the pink – a self-portrait | NSW | Cynthia Breusch |
| Cynthia | Breusch | Night Studio No.2 | NSW | Cynthia Breusch |
| Martin | Bruckard | Adam Goodes | VIC | Adam Goodes |
| Daniel | Butterworth | My Own worst enemy | VIC | Daniel Butterworth |
| Daniel | Butterworth | Self Phone in pocket | VIC | Daniel Butterworth |
| Daniel | Butterworth | Self enamel | VIC | Daniel Butterworth |
| Carmel | Byrne | Stephanie Di Como | NSW | Stephanie Di Como |
| Echo (Zi Xuan) | Cai | A Spring Windy Afternoon | VIC | Tammy Zhao Yang |
| Ann | Cape | Alice and friend | NSW | Guy Warren OAM |
| Adrienne | Casey | Everything Old Will Be New Again | NSW | Michael James Casey |
| Jacky Ming How | Chan | Pouring bronze | QLD | Brendon Tohill |
| Angela | Chauvin | Self Portrait, In Healing | VIC | Self, Angela Chauvin |
| Wei Bin | Chen | Self portrait smiling | NSW | Wei Bin Chen |
| Kenneth | Chu | The Keneally Stories | NSW | Thomas Keneally |
| Claude | Ciccone | The New Kid on the Block | VIC | Mira Ciccone (daughter),Sasha (Jack Russell), Gigi (French Bulldog) |
| Rachel | Coad | The imaginative historian, self-portrait. | WA | Rachel Coad |
| Joshua | Cocking | The inward urge | WA | Joshua Cocking |
| Ray | Coffey | Ray Coffey | QLD | Ray Coffey |
| Barbara | Conn | Vanda | QLD | Vanda Weidenbach |
| Tony | Costa | Simon Chan No 2 | NSW | Simon Chan |
| Fiona | Cotton | Rosary | ACT | Ann Maree Clark |
| Greg | Creek | Hungry-Caterpillar painting (Dementia or Pat) | VIC | Pat Creek |
| Richard | Cutler | Portrait of John Cutler OAM – Bespoke Tailor | NSW | John H Cutler |
| David | Darcy | Patrice Newell A dark place | NSW | Patrice Newell AM |
| Jenny | Davies | Nothing to Wear | WA | Jane Hebiton Tassell |
| Jackson | Davies | Kings Cross Studio 2022 | NSW | Chris Field |
| Sue | de Vanny | Overboard – Self Portrait | VIC | Sue de Vanny |
| Graeme | Drendel | Portrait of Lewis Miller | VIC | Lewis Miller |
| Leoni | Duff | Behind me, Looking Ahead- Self Portrait | TAS | Leoni Duff – Self Portrait |
| Nicolette | Eisdell | The Crown Prosecutor | NSW | Virginia Lydiard |
| Jeremy | Elkington | Self-Portrait in Ideal Interior Space | VIC | Jeremy Elkington |
| Esther | Erlich | David Hallberg | VIC | David Hallberg |
| David | Fairbairn | Double Lives_D.F.& S.A.No.2 | NSW | David Fairbairn , Suzanne Archer |
| Betina | Fauvel-Ogden | David Astle | VIC | David Astle |
| Glenda | Fell Jones | Christopher Wardlaw Jones Witnessing the Last Loss of Essendon Football Club's 2022 Season | VIC | Christopher Dylan Wardlaw Jones |
| David | Fenoglio | Self-portait wearing hat | QLD | David Fenoglio |
| Anne | Field | Barely here or there | ACT | John Clifford Biddle |
| Rikki | Fisher | The Baker's Daughter | NSW | Michelle Alethea Agioritis |
| Sophie | Freshwater | Transition of self | VIC | Sophie Freshwater |
| Hong | Fu | An International Trade And Tax Economist | VIC | Mohsin Khan |
| Vivien | Gaston | Maudie: Portrait of Maudie Palmer | VIC | Maudie Palmer AO |
| Drewfus | Gates | Te End Game – Lawrence Marshal | WA | Lawrence Marshall |
| Xavier | Ghazi | Nick Stathopoulos artist | NSW | Nick Stathopoulos |
| Anna-Carien | Goosen | Christmas at Broken Hill Farm | NSW | Marieta Goosen |
| Jamie | Grant | Liv's Apartment | VIC | Olivia Fleming |
| Jaq | Grantford | Bald | VIC | Jaq Grantford |
| Jane | Grealy | Transit | QLD | Stacey Robinson |
| Gary | Grealy | Tim | NSW | Tim Storrier |
| Gary | Grealy | Self Portrait | NSW | Gary Grealy |
| Andrew | Greensmith | Portrait of Rick Amor | VIC | Rick Amor |
| Jane | Guthleben | Kylea | NSW | Kylea Tink |
| Allis | Hamilton | Where the old horse wanders on the crest of the hill | VIC | Allis Hamilton |
| Sophie | Hann | Untitled | SA | Sophie Hann |
| Elizabeth | Hartland | Carnival Ian | VIC | Ian van Driel |
| Katherine | Hattam | Helen Garner and a Takeaway Between Covid Lockdowns | VIC | Helen Garner |
| Jacqueline | Hennessy | And Kerbstone cool, you were a freshly painted angel | NSW | Shannon Murphy |
| Tom | Hermann | I, Wonder | SA | Leonie Dean |
| Sarah | Hickey | Saint George (with child) | QLD | George Hickey |
| Edwina | Hoey | Bobby | QLD | Coran Connolly (Bobby) |
| Marie | Honore | In red | VIC | Marie Honoré |
| Ksenija | Hrnjak | Self portrait | NSW | Ksenija Hrnjak |
| Colin | Husband | Guy Warren in his own image | NSW | Guy Warren |
| Sean | Hutton | Sophie and Ruby | NSW | Sophie Catchlove and Ruby the cat |
| Emma | Itzstein | Self portrait, revisited… again | VIC | Self portrait |
| Michael | Iwanoff | …throughtheclearing… | WA | Andrew Mallard |
| Brad | Jamieson | Self Portrait as Hygeia | SA | Brad Jamieson |
| Matthew | Kane | Self Portrait | NSW | Matthew Kane |
| Solomon | Karmel-Shann | Portrait of the artist with a blank canvas | ACT | Solomon Karmel-Shann |
| Tia | Kassambalis | Smiling boy | VIC | Farhad Bandesh |
| Janne | Kearney | Art Simone (AKA Jack Daye) and Jack Daye | VIC | Art Simone (AKA Jack Daye) and Jack Daye |
| Matthew | Kentmann | Noah | NSW | Noah Campbell Kentmann |
| Martin | King | A day in the life of Richard Lewer | VIC | Richard Lewer |
| Mike | Kowalski | Pinnacle | VIC | Mike Kowalski |
| Zai | Kuang | Girl and toy | VIC | Celia Hill |
| Kenneth | Lambert | Self Contained | NSW | Kenneth Lambert |
| Janis | Lander | NC Qin | NSW | Nancy Qin Yu |
| Marie | Larkin | I have Become What I Love | NSW | Marie Larkin |
| Mary | Larnach Jones | Latest self portrait, possibly my last having reached 80 years. | VIC | Mary Larnach Jones |
| Naomi | Lawler | Self-Portrait at 36 (After Nora Heysen) | NSW | Naomi Lawler |
| Nerissa | Lea | Reg with beard and pencil | TAS | Reg Lynch |
| Michael | Legge-Wilkinson | Gulpilil Dreaming | WA | David Gulpilil Ridjimiraril Dalaithngu |
| Qi | Liu | Wendy | QLD | Wendy Hooker |
| Rosy | Lloyd | Professor Ross Fitzgerald After Open Heart Surgery | NSW | Professor Ross Fitzgerald AM |
| Kathrin | Longhurst | Bianca Spender – Modern Icon | NSW | Bianca Spender |
| Steve | Lopes | Warren Ellis, Portrait Study | NSW | Warren Ellis |
| Tasha | Lorenz | The Lighthouse Keeper | NSW | Leigh Mansfield |
| Tania | Lucas | Losing Jayda | VIC | Jayda Lucas-Lorimer, Tania Lucas (self-portrait) |
| Susan | Ma | Determination | NSW | Ron Ramsey |
| Susan | Ma | Howard and da Vinci robot | NSW | Howard Lau |
| Alison | Mackay | Dear Ancestor (Portrait of Andrew Barnum) | NSW | Andrew Barnum |
| Robert | Malherbe | Lulu | NSW | Lulu |
| Margaret J | Mapperson | John Jarratt – Dreaming in the bright blue sky | NSW | John Jarratt |
| Felicity | Martens | I step away from myself | SA | Self |
| Kathleen | Mason | The War Widow | NSW | Katie Norton |
| Kiata | Mason | Denzil with mum Justine | NSW | Justine Muller and Denzil |
| Samuel | Massey | Les | VIC | Leslie Rice |
| Samuel | Massey | Les Le Penseur | VIC | Leslie Rice |
| Terry | Matassoni | Portrait of Jan Senbergs | VIC | Jan Senbergs |
| Sarah | McBride | Shiny | WA | Simon Page aka Shiny |
| Morna | McIlraith | The Senator with Live Sheep. Mark Pearson MLC | NSW | Senator Mark Pearson |
| Linda | McInally | Wendy Allen: Life's commitment and abundance | QLD | Wendy Allen |
| Kerry | McInnis | Chester Nealie and Friends at Goanna Ridge | NSW | Chester Nealie |
| Margaret | Mckenna | Patrick Corrigan, Professional Beggar | NSW | Patrick Corrigan |
| Hollie | McKenzie | I Play Alone | NSW | Bea Bea |
| Lisa | McKimmie | Editor at Large | NSW | Belinda Luscombe |
| Tom | McMahon | A Slow Selfie | VIC | Tom McMahon (self-portrait) |
| Philip | Meatchem | Mister Brough | NSW | Alan Brough |
| Joshua | Miels | Downhearted | SA | Alex Howard |
| tricia | migdoll | Sofia | VIC | Sofia Barham |
| Neil | Miley | Concept, Action, Critique Evert Ploeg | NSW | Evert Ploeg |
| Paul | Miller | Beneath the cleaving light / a self portrait | NSW | Paul S. Miller |
| Lewis | Miller | Graeme Drendel | VIC | Graeme Drendel |
| Nigel | Milsom | Judo-house part: 11 (together through life) | NSW | Graham Henry |
| James | Money | Self Portrait (Hanging on a wall) | VIC | James Money |
| Gayene | Moor | Jess | QLD | Jess leClerc |
| Guy | Morgan | Reflective self-portrait with Holli, bare feet and good eye closed | NSW | Guy Morgan |
| Charleen | Morris | Smith Street Elders and Friends | QLD | Rod McNicol |
| Alan | Morrison | Beech Grove | QLD | Neil Beech |
| Eleni | Nakopoulos | Ray Lawrence-Moment in Time | NSW | Ray Lawrence |
| Petra | Nancarrow | Tea with Nana | QLD | Jenny Nancarrow |
| Andrew | Neilan | 40 plus 9 | QLD | Andrew Neilan |
| Kirsty | Neilson | A decade in Afghanistan | NSW | Andrew Quilty |
| Elizabeth | Nelson | Through the Looking Glass | VIC | Elizabeth Nelson |
| Pieter | Neve | The Plumber | NSW | Pieter Neve |
| Paul | Newton | Portrait of Hugh Jackman and Deborra-Lee Furness #2 | NSW | Hugh Jackman, Deborra-Lee Furness |
| Liam | Nunan | Heather learning lines | NSW | Heather Mitchell AM |
| Liam | Nunan | Heather | NSW | Heather Mitchell AM |
| Liam | Nunan | Self Portrait | NSW | Liam Nunan |
| Lucy | O'Doherty | Self-Portrait in pink room | NSW | Lucy O'Doherty |
| Jane | O'Hara | Chris Hammer -Crime Fiction Author | NSW | Chris Hammer |
| Sean | O'Keeffe | Tiriel Mora | NSW | Tiriel Mora |
| Tim | O'Shea | John Brewster – The Angels | SA | John Brewster |
| Agnes | Parcesepe | Yinka | VIC | Yinka Olorunnife |
| Roslyn | Parry | Ana | NSW | Ana |
| Dinesh | Pasupathyrajan | The Myna | VIC | Toshi SIngh |
| Sid | Pattni | Self Portrait #3 | WA | Sid Pattni |
| Justin | Pearson | Mark "Cal" Callaghan / from the band GANGgajang | NSW | Mark Callaghan |
| Amanda | Penrose Hart | Reg | NSW | Reg Mombassa |
| Micheila | Petersfield | Yellow Tinted Glasses | TAS | Micheila Petersfield |
| Simone | Piccioni | 'A memento vitae' in service to public health | NSW | Professor Tania C Sorrell AM, MBBS, MD (Research), FRACP, FAHMS and Professor Gwendolyn Gilbert AO, MBBS, MD, FRACP, FRCPA, M. Bioethics |
| Mica | Pillemer | A Portrait of Wonder | VIC | Gaius Pillemer |
| Evert | Ploeg | The hand gestures to who we are – a portrait of Leila Jeffreys | NSW | Leila Jeffreys |
| Alice | Pulvers | Self-Portrait with Koi | ACT | Self-portrait …Alice Pulvers |
| Bill | Rainbowbeard | Dug up Nathan | NSW | Nathan Puata |
| Caitlin | Reily | Zelimir after Gary after Velazquez | NSW | Zelimir Harasty |
| Jenny | Rodgerson | Wave – Self Portrait | VIC | Jenny Rodgerson |
| Sally | Ryan | Self-Portrait in Red Skirt | NSW | Sally Ryan |
| Lino | Savery | Roma | VIC | Eryca Green |
| Cam | Scale | When the Light comes around | NSW | Robert Hannaford AM |
| Simon | Schneider | Obsession | VIC | Mervyn Schneider |
| Simon | Schneider | Living in Paradise | VIC | Mervyn and Judith Schneider |
| Rachel | Scholich | Uncle Jack Charles | SA | Jack Charles |
| Michael | Simms | Brendan | NSW | Brendan De La Hay |
| Josh | Simpson | Life's a Beach | VIC | Josh Simpson |
| Randall | Sinnamon | Mr. D. Max Taylor | NSW | Max Taylor |
| Dee | Smart | Navigating a new world | NSW | Kim Leutwyler |
| Peter | Smeeth | Cathy Wilcox, Cartoonist | NSW | Cathy Wilcox |
| Kim | Smith | Brittany Higgins: I speak to you today out of necessity | NSW | Brittany Higgins |
| Tim | Snowdon | Cara | NSW | Cara Withers |
| Loribelle | Spirovski | Marylouise in the gold room | NSW | Marylouise McLaws |
| Ines | Stewart | Everywoman | NSW | June Chilcott |
| James | Stickland | Singing Inside | QLD | Self Portrait |
| James | Stickland | Swiss Army Knife | QLD | Peter Berner |
| James | Stickland | The Cruel World | QLD | Ebony Busk |
| Jacqui | Stockdale | Saying Goodbye | VIC | Rick Stirling |
| Liz | Stute | Yesterdays woman sits alone | VIC | Liz Stute |
| Vicki | Sullivan | The Stolen Songline of Miss Roselands 2 year old | VIC | Deborah Cheetham |
| Liz M | Sullivan | Sweetness and Sardines | VIC | Annie O'Shannessy |
| Caroline | Thew | Active Hope | VIC | Rob Baillieu |
| Anna | Thompson | Kiss My Ass MND | NSW | Mitchell Anttilla |
| Mark | Thompson | The Cancer Finishing School : Peter Goldsworthy | SA | Dr Peter Goldsworthy |
| Jacqueline | Tiepermann | The Toymaker | VIC | Manny Stul |
| Datsun | Tran | Self-portrait with pestilence | SA | Datsun Tran |
| Datsun | Tran | Scars of an artist | SA | Datsun Tran |
| Joanne | Turner | And then you were gone- a portrait of my Mother | QLD | Janice Sinclair Turner |
| Steve | Tyerman | Between Two Worlds – Self Portrait | QLD | Steve Tyerman |
| Chris | van der Craats | James Smeaton with a cat | VIC | James Smeaton |
| Jim | Van Geet | EM | VIC | Emili Rackemann |
| Tony Albert | Vincent Namatjira | Blackfella Bananas | NSW | Vincent Namatjira and Tony Albert |
| Craig | Waddell | From Inside My Every Waking Dream – Self Portrait | NSW | Craig Waddell |
| Craig | Waddell | I See Flower Monsters Inside My Every Waking Dreams – Self Portrait Craig Waddell | NSW | Craig Waddell |
| Angela | Walker | MeMe | SA | Self portrait |
| Natasha | Walsh | Dear Ben | NSW | Natasha Walsh |
| Adrianna | Wasinska-Fabain | Connection | WA | Self portrait |
| Graham | Watson | It never rains but it pours | NSW | Graham Albert Watson |
| Tamas | Wells | A life building peace: Professor John Langmore AM (copy) | VIC | John Langmore |
| Bruce | Whatley | Self Portrait: Self Doubt | NSW | Bruce Whatley (self) |
| Naomi | White | Keeping us healthy through science | QLD | Professor Ian Frazer AC |
| marcus | wills | Jack and Nikki | VIC | Jack Riley, Nikki Tarling |
| Mel | Wilson | Roller Coaster (Self-Portrait) | VIC | Mel Jane Wilson |
| Renee | Wilson | Embracing Identity | QLD | Mangunudkija Toby |
| Madeleine | Winch | Soliloquy | NSW | Madeleine Winch (self portrait) |
| Debra | Winn | David | VIC | David McAllister AC |
| Stefan | Wirihana Mau | Whakaahua Kiriaro (Self-Portrait) 2022 | VIC | Self-Portrait |
| Angus | Wishart | Darkness and Light | VIC | Hugh Sheridan |
| Callum | Worsfold | Self portrait | NSW | Callum Worsfold |
| Lucila | Zentner | Kangaroo (Dreaming) | NSW | Alma Salta Zentner-Pitman |